Gilbert Arenas is ready for his ex-Laura Govan to move on and start taking care of herself, and he's willing to get the courts involved.  Get deets on Laura's alleged eviction, the new "Arenas" baby, and see why Gilbert claims he's not a deadbeat dad inside.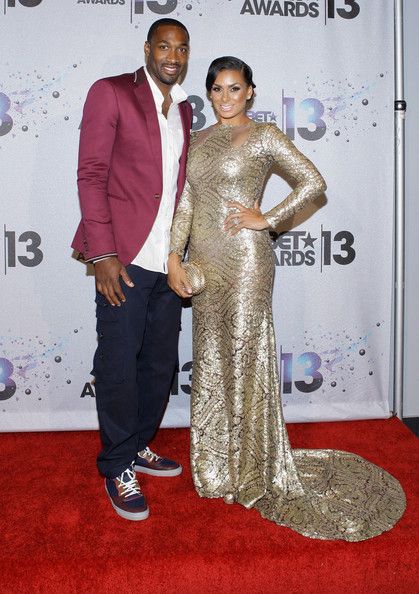 We've got new drama between retired NBA player Gilbert Arenas and his four-time baby momma, former "BBW LA" star Laura Govan (shown above in 2013, during happier times).  
SMH....Gilbert and Laura had one of the most tumultuous relationships in NBA/baby momma drama history. Their love story included an alleged eviction or two, fake engagement rings and multiple children. Now.....we're onto a NEW eviction. And this time, Gilbert and his lawyers aren't playing around.
So......after Laura returned from Atlanta for LudaDay Weekend, she was greeted with a letter from Gilbert's attorney giving her 60-days to vacate the mansion he pays for. According to Gilbert's legal documents (check out the original docs at Baller Alert), the home's monthly expenses total $16K and he's been paying for all of them. He's even  paying for an Escalade that Laura drives (that he wants that back too).
Because everything is in Gilbert's name and there was never a court order to specify who gets to live in the homee, Gilbert is well within his rights to ask her to leave. He's even offered to give her first and last month and a security deposit on a new home...if she leaves willingly. Otherwise, they'll evict her.
But before you go taking Laura's side, Gilbert posted a long rant on Instagram that explains why he isn't a deadbeat and how Laura is on easy street.
Check the post below, Gilbert has set up each kid with a $300K college fund, their own bank accounts (and he makes regular deposits) and he continues to give them spending money. So.....what does Laura use her $20K a month child support payments for? Gilbert says it's to stunt on Instagram. #noshade.....
"She gets 20k a month but if u read what I do then ask urself what does she do with 20k ...she has to feed the kids at home, pay for gas to get them to school and pay her phone bill andddddddd that's it....She gets 20k to buy her self clothes for #IG for u f*cks to hit the like button."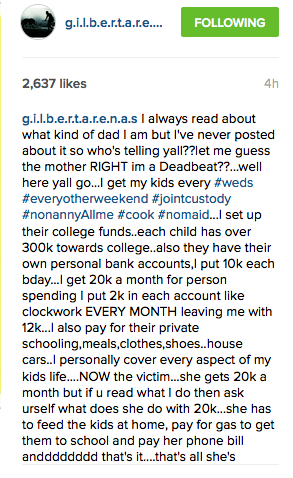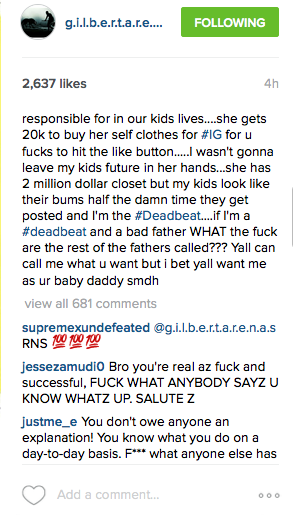 In other Arenas news, he is rumored to have fathered a baby with Lindsay Faulk, the ex-wife of NFL Baller Marshall Faulk. Lindsay has made her Instagram page private so we'll bring you baby pics as soon as we can. In the meantime, you can also peep the baby photos at Baller Alert.
Photos via Getty