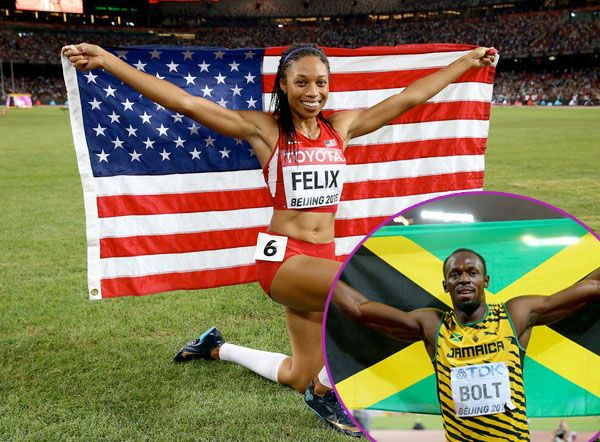 US medalist Allyson Felix and Jamaican track star Usain Bolt sprinted all the way into the history books today. Get the deets on their epic wins and peep the video clip of Usain getting knocked down by a cameraman on a segway inside….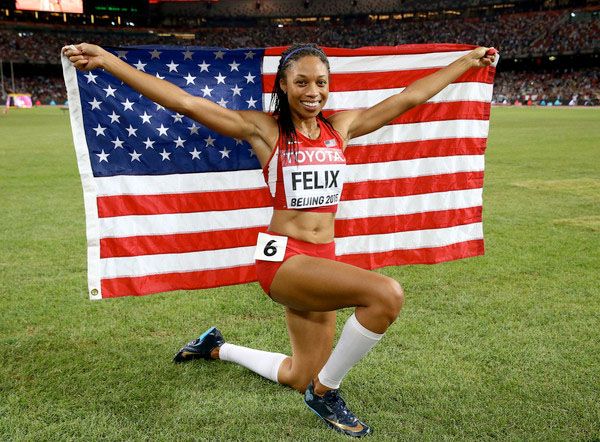 Cheers to this YBF chick!
U.S. sprinter and four-time Olympic Gold medalist Allyson Felix just won the gold in the Women's 400-meter final at the 15th IAAF World Athletics Championships - Beijing 2015 at Beijing National Stadium today!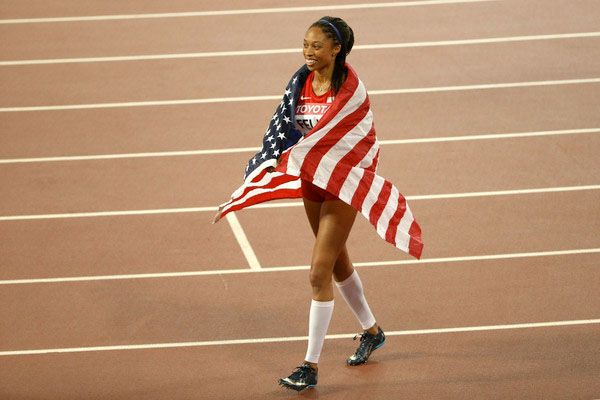 The poised sprinter will go down in the history books after winning her record-breaking NINTH World Championships gold medal and 11th overall. Chick clocked in the fastest winning time this year with a personal best of 49.26 seconds, making her the leader of the Worlds gold medals won by an American. YASS!
The 200m champion chose to race in the 400m over the 200m this year because she said she wanted to challenge herself with a longer distance. She said she believed she complete the race and come out victorious. After winning the gold, she told the media,
"I wanted to challenge myself this year and I did and I'm happy I could be successful. It was my plan to start fast. I had to take advantage of my speed that I have and bring that to the 400m. I wanted to control the race. I think everyone struggles at the end of a 400m. I wanted to trust in my fitness because I knew I had it."
Nice!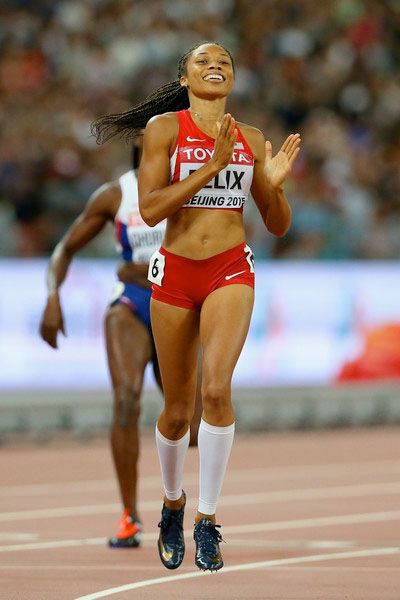 Congrats Allyson!
Another YBFer breaking records....
After ending his injury-prone 2014 season early, Jamaican sprinter Usain Bolt has something to prove. And that would be….he's one of the fastest men alive.
Usain bolted across the Men's 200-meter final finish line today bringing home a new gold medal to add to his collection. He won a record 10th gold medal at the world championships, beating out U.S. sprinter Justin Gatlin. 
He chopped it up with the media after winning saying,
"The 200m means a lot more to me. There was never a doubt that I was going to win this one. Justin Gatlin was there: 'Oh, he is going to be ready'. That is why I really celebrated as much as I did. I am No1."
Not only that, he also clocked in at a lighting bolt speed of 19.55, his best for three years and the 10th fastest in the history of the sport.  Usain also won the Gold in the 100m race this week.
While his accomplishment is one big feat, everyone is talking (and laughing) about the collision that swiped the runner off of his feet after winning the Gold a couple of hours ago:
Usain Bolt had a little accident with a cameraman after his victory... MAMMA MIA! (via @tara_mulholland) https://t.co/U7aKKKEpsf

— SportsCenter (@SportsCenter) August 27, 2015
Bloop!
As Usain basked in his incredible win, a cameraman on a Segway lost control and ran into him knocking him down to the ground! Yikes. Luckily, he's ok. He has a tiny cut on his calf. That won't stop him before he returns to the track for this afternoon's 4x100 relay.
Congrats Usain!
Photos: Getty