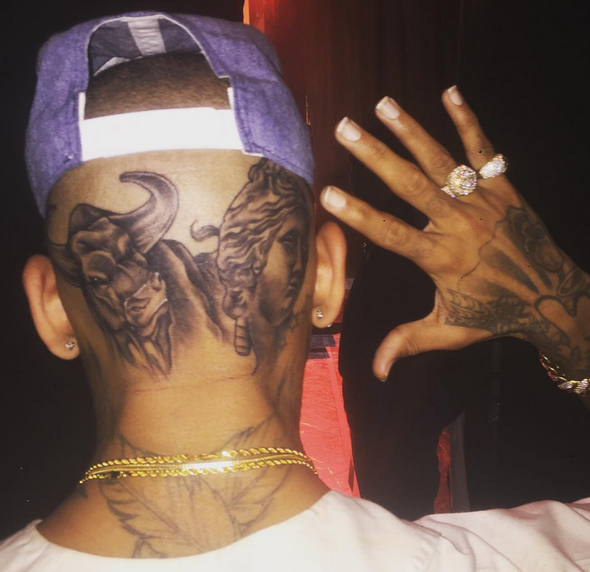 Chris Brown posted his "completed" head tatt and we've got the final product inside!  Also, check out a preview of The Weeknd on BILLBOARD and watch Omarion's"I'm Up" video.
Earlier this week, Chris Brown caused an Instagram uproar when he revealed that Bronx-based tattoo artist King Rico had inked a tattoo on the right side of his head. Some say it's Venus De Milo, others say it's just crazy.  Well guess what....he wasn't finished.  After another session, Chris got the back of his head inked as well.  Peep the photo above....
King Rico captioned the pic, "Just on the homie @chrisbrownofficial It was a pleasure to tatt the new King of Pop and watch him put together another record in front of [me]. Dude is a genius. Blessed and Thankful".
Meanwhile, Chris commented,"I do what the fuck I want! #rockstar #500 #onehellofanightout r #legendarynights // #Chrisbrown #teambreezy #breezy #kingbreezy #cb #new #tattoos". 
SMH......maybe he's writing a song about what the tattoo symbolizes?  We're at a loss....
Later...
Chris posted (then deleted) a pic of a man's arm with the word BLOOD on it.  Of course, this refers to the notorious gang of the same name that he has referenced and alluded to being affiliated with. 
Let's ponder this....since Chris is still battling baby momma Nia Guzman over little Royalty, is it wise to post pics that might lead a judge to believe he associates with gangmembers? Obviously, someone in Chris' camp had the same realization and asked him to remove it.
Also.....
French Montana uploaded an Instagram clip of himself and his crew chilling in the studio with Chris while working on their track "Moses" which also features Migos.  Chris smoking cigarettes inside the studio as if they don't ruin your voice?
It almost seems like he doesn't realize that Nia could use all of this against him.....
On newsstands...
With his album dropping on Friday and a #1 record with "I Can't Feel My Face," it's hard to escape The Weeknd. He's all over the radio dial! Now, his face will be all over newsstands too (including VOGUE and GQ).
Today, he's landed the cover of Billboard's 2015 Fall Music Preview issue were he opens up about being inspired by Michael Jackson, his close relationship with his mother, plus working with Kanye West and Taylor Swift.
On hitting the stage with Taylor Swift:"When she introduced me and the whole stadium screamed their lungs out, it kind of threw me off. I did not expect that reaction."
On dropping out of high school and not wanting to disappoint his mom:  "I couldn't face her until I made something out of myself," he tells Billboard."I couldn't go back home as a nobody."
On Michael Jackson inspiring him to be a songwriter:  The first time he read the lyrics to "Dirty Diana," he says he got emotional. "It's when I first knew I wanted to write songs." 
The Weeknd's BILLBOARD issue is out today and his disc Beauty Behind the Madness hits stores tomorrow.
In new music videos...
On the heels of his summer anthem "Post To Be" and successful stint as a lead character on "LAHH Hollywood", singer Omarion tapped French Montana to join him on his latest club record "I'm Up" featuring Kid Ink.  The bouncy track was produced by Nic Nac and showcases Maybach O crooning,
"Baby I'm the man, I'm up
Couple hundred bands on the car
Villa and a mansion, uh, I'm that nigga
I'm that nigga, I'm that nigga
I'm with my niggas, bring more bitches

Girl, I got the mojo
See you when you double tap the photo
She ain't into logos (nope!)
Living single like Maxine, I'ma have her singing like Coko
(I get so weak) ...in the knees
Can't cuff me, bitch please
You can get involved
You know who to call when your man Duval, too small, no Lacey
Cause I'm up
Zero, zero, zero, comma
Heard you looking for a sponsor
Well you gon' have to ride this anaconda"
The wet-and-wild video shows O hopping out of a matte black Bentley before walking into a tricked out mansion where topless girls are having a pillow-fight.  You know, the usual.  Still, O's baby's mother Apryl Jones makes a cameo too....sans pillow (and she keeps her top on).
"I'm Up" will appear on Omarion's upcoming album Reasons, due Oct. 23rd. Also, he's currently on the road with Chris Brown on his "One Hell of a Nite" tour.
Photos via Chris Brown Instagram/I Am King Rico/The Weeknd's Instagram