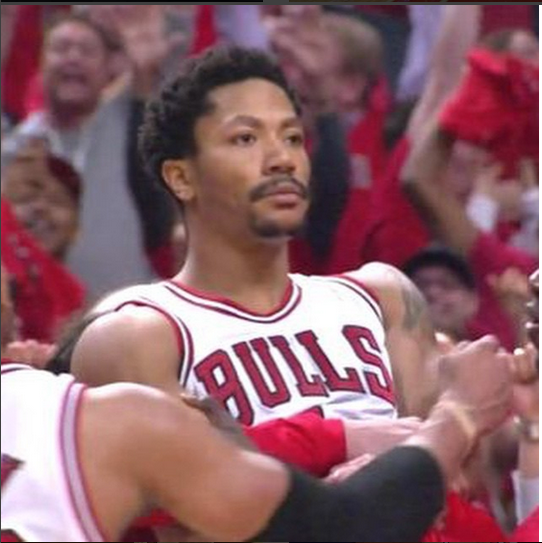 Well, here's a story we didn't ever expect to hit our inbox.  Chicago Bulls star Derrick Rose is on the receiving end of some pretty hefty accusations.  Details on the alleged gang-rape and drugging of an ex-girlfriend, as reports are calling her, inside...
Generally speaking, rape culture is very real, even amongst those we think our upstanding individuals.  The sexing of drugged up women has even been glorified in songs and seems to be something some men pat each other on the backs for doing as they get to exert their power and be part of some gross "boys club" in doing so. 
The latest professional athlete to be accused of rape is NBA star Derrick Rose.  And while there's some online chatter about the details in the lawsuit being farfetched, the accusations are MAJOR.
A woman going by Jane Doe is suing the franchise player for alleged sexual abuse including allegedly forcing her to allow him to have sex with her friend, and allegedly forcing her into group sex and masturbation.
The woman, who claims she dated Derrick from 2011-2013, also points the finger at Derrick's friend and personal manager, Ryan Allen and Randall Hampton, for inviting her to Derrick's Beverly Hills home.  She says that's where the men drugged her and attempted to have sex with her.  Later that night, once she made her way home with help from a friend, she claims Derrick and his two friends broke into her home and gang-raped her. 
Now, she's suing for damages.
Interestingly, Derrick seemingly was in a relationship with his child's (PJ's) mother Meika Joi during that time.  The two spoke about each other publicly and were out publicly together.  They even celebrated PJ's first birthday together in 2013, around the same time Meika wrote a public note saying she and Derrick had broken up.  Commenters on Meika's Instagram account claim she is not, though, the woman who filed these papers. 
Here's the full story from TMZ:
The woman, identified only as Jane Doe, says she and Rose dated from 2011 to 2013. During that time, Rose allegedly tried to pressure her to masturbate in front of him, allow him to have sex with her friends and engage in group sex with strangers, all of which she says she refused.

Rose's accuser says the two continued to date until August 2013, when Rose and two friends, Ryan Allen and Randall Hampton (who is also Rose's personal manager), invited her to Rose's Beverly Hills house. She says there, they slipped a drug into her drink with the aim of raping her.

The plaintiff says she escaped the house with a friend, but later that night, Rose and his friends broke into her apartment and gang raped her while she was incapacitated. She says she remembers only "flashes" of the incident, but can remember the defendants forcibly raping her.

She claims she waited for two years to file the suit because she was "ashamed and embarrassed" of what happened and concerned her "conservative family" would find out.
If there is even an ounce of truth to the allegations, it's severely unfortunate, disappointed, and disgusting.  We'll keep you updated on any and all developments...
EXTRAS:
1.  Former San Francisco 49ers player (who was released when he was first arrested for the charge) Ray McDonald was indicted on a charge of rape of an unnamed woman.  The grand jury has also indicted 49ers linebacker Ahmad Brooks with misdemeanor sexual battery for acts committed against the same woman.  STORY