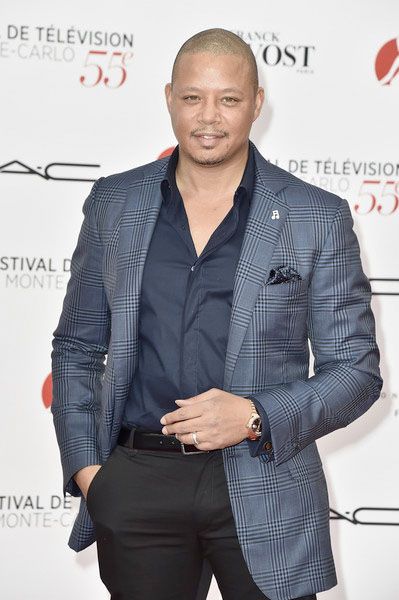 Terrence Howard turned the water works on in court and now a judge has ruled in his favor. Get the latest on the "Empire" star's legal issues with his ex-wife Michelle Ghent and peep the first look at Kelly Rowland on the set of "Empire" inside….
Terrence Howard can thank his lucky stars. A judge ruled in his favor to have his spousal support agreement with his ex-wife Michelle Ghent (his 2nd ex-wife, not his most recent) thrown out. You know he was ordered to cough up $5,800 a month in payments.
Over the past few weeks, the "Empire" star has been in court trying his damnedest to have the spousal agreement he signed with his ex-wife Michelle thrown out. Even crying on the stand during his last court appearance.
You'll recall, the Hollywood actor made claims that Michelle extorted money from him, threatening to leak details about his sex life, and threatened to release information about him that could ultimately affect his career, so he wanted the settlement nullified.
And his prayers have been answered. According to reports, Judge Thomas Trent Lewis threw out their divorce/spousal agreement due to Terrence signing "under duress."
While delivering the verdict, Judge Lewis said, "Terrence Howard is a bully, [but] just because you're a bully, doesn't mean you can be bullied."
After the ruling, Terrence issued a statement to PEOPLE saying, "I could not be any more pleased by today's ruling. I am grateful to my [attorney and his team,] whose skill and tireless efforts enabled me to secure this terrific ruling from the Court."
As if his latest legal woes weren't shocking enough, during recent court proceedings we learned Terrence and his third wife Mira Pak (who gave birth to their baby boy Qirin in May) have also filed for divorce. SMH! Something ain't right in the water.
Now, Terrence and Michelle will head back to family law court to hash out a new agreement. Let's hope Michelle doesn't have to do any "back paying."
In lighter "Empire" news....
We're just a month away before the season 2 premiere of "Empire." And before we get all wrapped in Lee Daniels' creative magic, we have the first look at R&B songstress Kelly Rowland on the hit FOX series.
The R&B diva will play is set to play Lucious Lyon's mother….in a flashback. And here's the first look at Kellz holding little Lucious above.
Get ready. Season 2 of "Empire" will return September 23rd.
EXTRAS:
1. NEWSFLASH! Mariah Carey is NOT pregnant by her billionaire boo James Packer. STORY
 
Photos: Getty/ Chuck Hodes/FOX