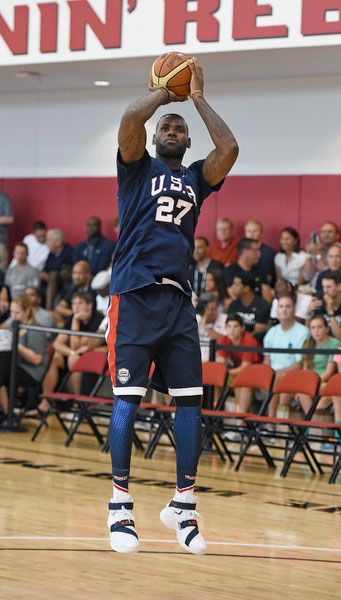 If you're looking to nab LeBron James to endorse your product on social media, you better be ready to have his money. Find out how much it costs for King James to co-sign a product on Twitter inside….
When you're LeBron James, doing anything outside of perfecting your brand will cost those looking for a co-sign a nice chunk of change. I mean…he is one of the top NBA stars of our generation.
With the advancement of technology, comes new ways of bringing in revenue. And one company, Opendorse, is working with athletes to help monetize digital and social media campaigns. According to Opendorse, if you wanted King James to promote your product on his page it would cost you $139,474 PER tweet!
That's right. In order for LeBron to share anything with his 23.2 million fans it's going to cost. In fact, LeBron has the highest tweet value of any U.S. athlete. Take that, take that.
Opendorse CEO Blake Lawrence explained to ESPN:
"We're basically saying that the value of one LeBron tweet is worth $140,000. And with that, you will reach 23 million people. It would cost you five times more to reach that many people with a TV ad."
Following behind LeBron, it'll cost you $66,553 for Kevin Durant to shoot a tweet , Kobe Bryant will set you back $42,389 per tweet, Floyd Mayweather's tweets cost $34,924 and Dwight Howard will run you $34,290 a tweet.
So it's true. Twitter followers = dollar signs….if you play the game correctly and have some type of talent.
Speaking of LeBron….
The Cleveland Cavaliar is currently in the Phillipines putting on a show. The NBA superstar is overseas as a part of a NIKE sponsored tour. So for today's festivities, LeBron makes a cameo on the "Nike Rise" reality series, a weekly reality show in the Philippines that focuses on finding talented basketball players and developing their skills.
Check out King James flossing his skills below:
Nice!
In TV news, the first episode of Executive Producer LeBron's STARZ series "Survivor's Remorse" will premiere season 2 on Saturday, August 22nd.
Photo: Getty