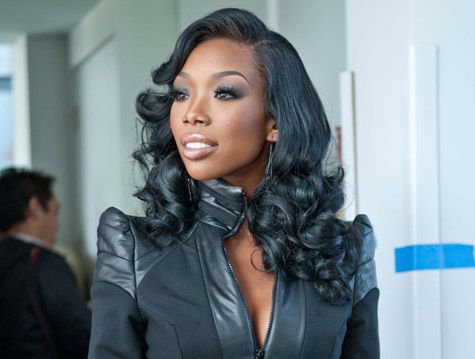 Brandy Norwood has learned a hell of a lot in her 32 years.  Entering this business at the age of 13, the powerful singer has finally learned the difference between loving perfection and loving herself.  But it came at the high price of eating disorders, lies & depression. 
Check out our recap of Brandy's full VH1 "Behind The Music" episode where she takes us on her journey from a naive but extremely talented young girl to the strong-hearted & confident woman she has become...
The eye opening story of Brandy Norwood's musical life--which is completely intertwined with her personal life and experiences--aired last night on VH1's "Behind The Music."  Brandy revealed how her controversial relationship with a much older Wanya Morris led to her depression, how the team around her pushed for the squeaky clean girl next door image--which led to her complete unhappiness, her pregnancy and fake marriage which was the demise of her career, and finding love (in boyfriend Ryan & herself) again which has led to a fabulous comeback.  Here's our complete recap: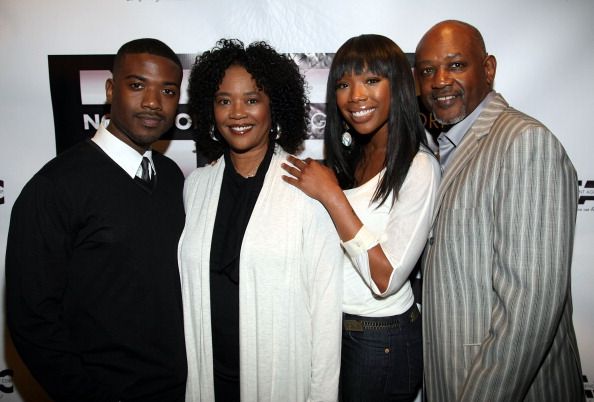 On Brandy's religious upbringing
Brandy was discovered on the stage of her father's church. Brother Ray-J said people always wanted to listen because she could do amazing things with her voice. Brandy revealed she was able to sing with freedom in the chrch because she felt supported and she felt no judgment.
On attending first concert
It was a Whitney Houston concert and Brandy cried when she finally saw and heard her. She was taken aback by all the people watching Whitney in amazement and knew right then that's what she wanted to do. Brandy said she knew she would become a star herself because she didn't want anything else.
On her big break
Execs at Atlantic Records listened to her demo and offered her a deal at age 13. Brandy's mother, Sonja (pictured above), quit her job to become her full time manager. Her mother, (who is known in the industry as the ultimate stage mom), wanted to make sure every aspect of Brandy career was handled perfectly. Her debut single "Wanna Be Down" took over the charts in 1994 and her debut self-titled album went quadruple platinum and boasted 10 top singles. brandy's team wanted to keep up her image as a clean cut, perfect American girl. She was soon on top of the game with music, awards & concerts.
On her controversial relationship with Wanya Morris
Wanya called her when she was just 15 (he was 21) saying he wanted her to accompany Boyz II Men on their tour. Brandy fell in love with him, but wasn't allowed to date because she was too young. When B & Wanya shot their duet "Brokenhearted" in '95, she finally got up the courage to tell him she loved him. The relationship blossomed into official coupledom and real love. Brandy's management was unhappy about how a relationship with a much older man would affect her squeaky clean image. So Brandy & Wanya continued with a secret relationship and blatantly lied to the public about it. With all the secrecy--it took a toll and Wanya fell in love with someone else. At 18, Brandy was heartbroken and crushed…leading to her writing second hit album, Never Say Never, with Rodney Jerkins. The song "Tomorrow" was completely about Wanya. "The Boy Is Mine" and 5 other singles were #1's. As well as the whole album. And her first ever Grammy was for her and Monica's history making collabo "The Boy Is Mine."
On her show "Moesha"
Was offered the show based on her own persona.  Moesha was a perfect girl making straight A's and going through everyday teen life.  Was the perfect synergy for her.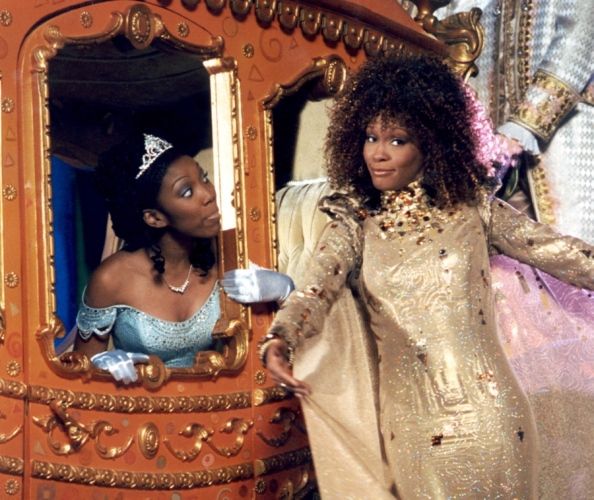 On becoming the first African American princess of Disney
Brandy's idol Whitney Houston cast Brandy in the Disney remake of Cinderella. Brandy commented that she gave her the opportunity to be the first African American princess and she was so cool and down to earth. And one of the brightest lights she'd ever seen. B revealed she still has all 6 Barbie dolls created in her image based off the tv movie. She broke a color barrier by having the Disney role, Barbie dolls & the like.
On her eating disorder as a teen
At 19, Brandy revealed she stopped eating properly and suffered from bulimia and anorexia. Everyone thought she was perfect on the outside with her career being on top, but she was the unhappiest teenager in the world. "People don't understand that being the hottest star or making the most money does not mean anything. I'm here to tell you I was making so much money - I was omnipresent - and I was the unhappiest teenager probably in the world."
She decided to just become the skinniest possible person she could be in her struggle and obsession with perfection.  And it took a toll on her health.
On her controversial pregnancy & fake marriage
She returned to studio to do her 3rd album, Full Moon, with Rodney Jerkins again. She worked alongside music producer Robert Smith as well, and started to fall for him. She found herself unexpectedly pregnant with Robert's child, and that wasn't "ok" for the Brandy brand.  Brandy remarked that it's a sin to get pregnant out of wedlock in her family, based on their christian background and beliefs.  "Everybody around me tried to force me to get married, so why don't I just say I'm married. Because I don't want to get married. It's the biggest mistake I've ever made."
She blatantly lied to the media saying she & Robert had secretly gotten married in the summer and would keep the time and place secret and personal.  She did an MTV special called "Brandy's Special Delivery," which followed her last month of pregnancy until her daughter Sy'Rai was born.  At one point, Robert felt Brandy had gone into too much detail tot he media about the problems they were having as a couple. So Robert went on Wendy Williams' radio show to expose their fake marriage saying it never happened. Everyone around Brandy told her not to own up to it and to not address it. And the entire situation devastated her career and her fans. "The lie abut being married was the fall of my career. Everything changed."  Brandy has never addressed or fessed up to lying about the marriage until this "Behind The Music" episode.
On changing her music direction to more sexy on Aphrodisiac
Brandy said she felt totally awkward doing this "sexy phase" and it just wasn't believable. The album was a flop.
On that fatal accident on the 405
Brandy slammed into a car from the back while on the L.A. interstate, while going 65 mph, and it caused a huge pile up. A mother of 2 was killed. And she couldn't handle the blame. "Whether it was my fault or not, I was still involved." People called a murderer and it was difficult handling all the criticism. "I didn't wake up that day to get involved in a fatal car crash."
There was insufficient evidence to charge her with any crime.  She said she gets hurt when people still gossip about it and try to hurt her.
On 5th album Human
On this LP, Brandy channeled all of her hurt and past experiences.  It was her way of apologizing for her past mistakes and she wanted to reconnect with her purpose.
On her big 2010-2012 comeback & gaining control
She signed on for "DWTS and opened her life on the VH1 reality show "The Family Business". Her mother Sonya stepped down as her manager after 20 years. Brandy signed a new deal with RCA and started recording her new album (now titled Two Eleven). She also reunited with old friend Monica on "It All Belongs to Me."
On her final days with Whitney Houston
Brandy & Monica were prepping to perform on stage for Clive Davis' pre-Grammy party. Whitney came to their soundcheck and told them to tell the legendary Ricky Minor to turn the band down because she couldn't hear them! Brandy thought it was so cute and that was the last time she saw her. Sonya told her 2 days after that Whitney was dead, and her heart left her body. Attended Whitney's funeral on Feb 18th.  "I genuinely loved her so much."
On Whitney Houston's death
Whitney died on Brandy's birthday, which Brandy said made her feel like she now has a responsibility to do Whitney wants her to do--stay an inspiration and a light. "She gave me so much. She gave me a dream."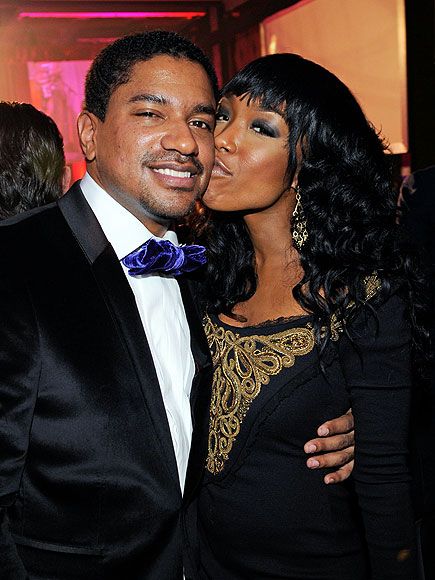 On her new love, music exec Ryan Press
"I am very much in love. In a divine love. If he's not the one, then I am done with love honey. So he better act right."
Here's the full episode below:
The made us fall in love with B all over again--like we were when she hit the scene with "Wanna Be Down."