Folks are absolutely fed up with the utter foolywangery that is VH1's "Basketball Wives."  It only took 4 seasons for that to happen.  Yet and still, a petition has popped up to boycott cast member Evelyn Lozada's new spinoff show....and Star Jones is gathering up support of powerful women to get the show and its often embarrassing antics stopped.
Deets inside...
Evelyn and her assistant Nia Crooks ganging up on co-star Jennifer Williams this season seems to have been the straw that broke the slaphappy camel's back.  Because folks are more up in arms than ever at the antics of the grown women on this show.  From jumping on tables just to get a lick in on another female to throwing glass in the face of another to may-jah curse-your-ass-out arguments, it's a lot going on "Basketball Wives" these days.
An excerpt from an online petition that is now circulating (check it out in full HERE) reads:
"Evelyn Lozada is a bully. The violence on 'Basketball Wives' is horrible and disgraceful.  This is not a hate petition against Eveyln Lozada. We simply will not support violence. It hurts to see violence amongst women on television for entertainment purposes. It is not OK for women to hit each other on TV.

Just about every altercation and argument on the show has involved Evelyn in some way, shape or form. From the yelling match on the season 4 premier against her former bestie, Jen, to the table climbing and hair pulling in the last couple of episodes, the woman has a problem for reals."
Ha!  The petition also asks viewers to call and write Viacom in order to stop the release of "Ev & Ocho," Evelyn's spinoff show with fiance Chad OchoCinco.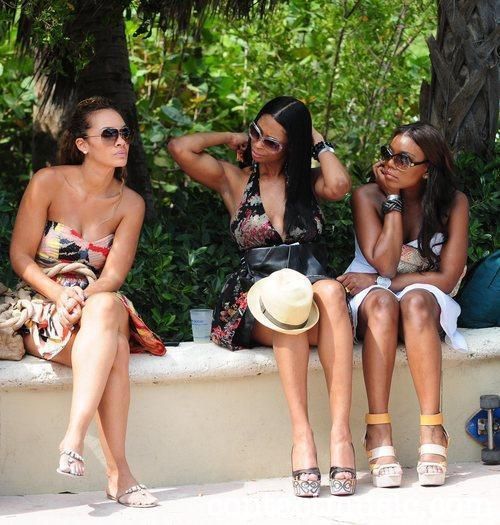 Meanwhile, former "The View" co-host Star Jones went on a twitter rant reading these chicks.  Which we assume would include her ex-hubby, Al Reynolds, who appeared on several episodes as the girls' bestie.  *eyebrow raised*
She popped off this week saying:
"It may be 'comfortable' to be quiet when women of color slap the crap out of each other & run across tables barefoot, but #ENOUGHisENOUGH."

"About to put together a group of sisters to finally 'tell the truth' about the image of women of color in the media."
She continued:
"And the thought that the woman from #BBW who was smacked doesn't have the RIGHT to file assault charges is LUDICROUS! You NEVER give up your right not to have your 'person' intentionally assaulted unless you are participating in an agreed physical activity.

…little black girls deserve more than what we're giving! It sickens me @lov3lylina85 when young sis think that behavior is acceptable. U can't get a REAL JOB acting like an animal."
So...who's getting their virtual picket signs ready for the fight?  Any takers?