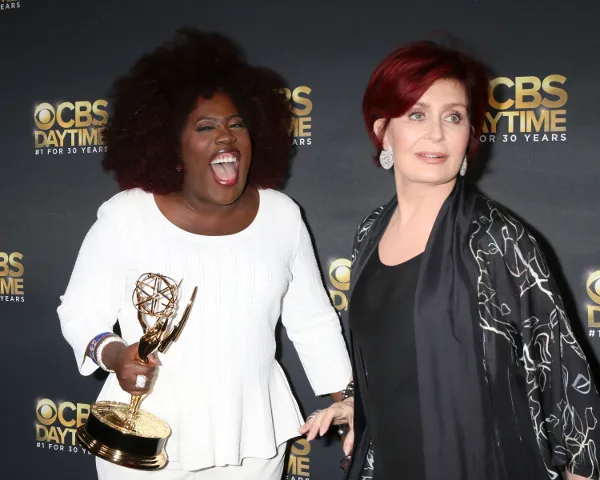 Sharon Osbourne speaks out for the first time since her exit from "The Talk." Her interview comes on the heels of the talk show's return where Sheryl Underwood addressed her former co-host's controversial exit. More inside…
On Friday, Sharon Osbourne appeared on HBO's "Real Time with Bill Maher" for her first interview since her controversial exit from "The Talk," following a heated exchange between herself and her former co-host Sheryl Underwood.
During their conversation, Sharon told Bill she was upset at how the controversy unfolded.
"I'm angry, I'm hurt," she said when asked how she was feeling about her exit from the talk series. "I've been called so many things in my life… but a racist is one thing I will not take."
Sharon and Bill bonded over their disdain for "cancel culture" and threw shade at "woke language."
"It's not fair, because it isn't about being a racist," she added."It's about maybe about not knowing what is correct and woke for your language that day, cause it changes from day to day."
"I'm going to be just fine, I'm fine, as I said I'm a fighter, I'm fine," she said.
Check out a clip from the interview below:
Sharon's interview comes on the heels on the return of "The Talk" following a brief hiatus due to the investigation into Sharon's disrespectful actions against Sheryl Underwood.
For the "The Talk's" return, the entire hour was dedicated to exploring and discussing racism, healing, and the drama that unfolded on national television between Sharon and Sheryl.
"I feel like I'm in PTSD because it was a trauma," Sheryl told guest Dr. Donald E. Grant, an expert on diversity, equity, inclusion, and justice.
The explosive episode went down March 10th where Sharon berated her co-hosts – specifically Sheryl - while defending her friend Piers Morgan, who was under fire for his vocal (and sometimes racist) criticism of Meghan Markle.
During Monday's episode of "The Talk," Sheryl opened up about how she chose to navigate that difficult moment.
"I didn't want to escalate things with Sharon because I thought I was having a conversation with a friend, but also, I knew I had to be an example for others to follow," she said. "I didn't want to be perceived as that angry Black woman, and that really scared me. I didn't want to be that, and I wanted to remain calm and focused."
And everyone knows had she responded to Sharon with the same energy, she would have been labeled an angry black woman. Sheryl handled the situation perfectly.
Sharon made claims that she texted Sheryl after their on-air argument in response to Sheryl revealing that Sharon hadn't reached out to apologize.
"I have not spoken to [her], and do not have any phone call, missed or received, that I can find in my phone [from her]," Sheryl said. "But there were text messages sent to me, and the reason that I did not speak about or acknowledge, or even respond to those text messages, because they were coming to me during the internal investigation."
She continued: "I've never been through anything like this, so I didn't know if you were supposed to communicate or not while there's an international investigation. So I want to be clear with this, I have not spoken to Sharon."
The comedian/talk show host said she didn't want to respond to Sharon's text messages because she didn't want anything popping up "in the media that's misunderstood."
The comedienne also addressed how she plans to handle her "friendship" with Sharon moving forward:
"People have asked me, 'Well, if you see Sharon, what would you do?'" she said. "First of all, if she greeted me warmly and sincerely, I would give her back the same, because we've been on this show for 10 years. I want people to understand when you're friends with somebody, you stay friends. And what did Maya Angelou say? When people show you who they are, believe them."
"The Talk's" Elaine Welteroth also addressed what transpired between Sheryl & Sharon:
"I think when you go back and watch that episode, you will see two black women walking the same tightrope that black women are walking every single day in the workplace," she began.

"We knew that we had to stay composed in that situation, even in the face of someone who was not listening, and who went off the rails into disrespect when we were maintaining our respect within the context of this very complex, charged, emotional conversation.

"That was emotional for all of us. Sheryl and I haven't had the same opportunity to address some of what's happened directly and I think it's important that we have the opportunity now," Elaine continued.

"There have been a lot of false narratives that have been spun in the media that frame both Sheryl and myself as co-conspirators and attacking someone. And I just want to take this opportunity to say that is absolutely, categorically false and unfair. And I think it's really important that people hear that."
Peep a clip from the show's return episode below:
Thoughts?
Photo: Kathy Hutchinson/Shutterstock.com