DJ Funkmaster Flex has lost 40lbs during his weight loss journey. To celebrate, he decided to get liposuction. Then, he took it a step further sharing the procedure on IG Live. Lord. More inside…
New waist, who this?
DJ Funkmaster Flex has been committed to his weight loss journey, dropping 40lbs in the process.
Giving full transparency, The 52-year-old hopped on Instagram Live yesterday to give his fans a front row view of him undergoing liposuction. And apparently, the procedure was one "he always wanted to try." He said he decided to get the procedure done to "work on the hard areas," such as his lower stomach, armpit sides and back fat. Oh, and he was awake the entire time.
In the background, Wu-Tang Clan rapper Raekwon's single "Ice Cream" was heard and social media users were confused why he picked that song to play during the procedure.
Check it:
"Today I took a step I always wanted to try! @elitebodysculpture works on those hard areas... lower stomach, arm pit sides and back fat!," he wrote on IG. "No anesthesia, awake the entire time! I really enjoyed it! @drtonyperkins thank u! Home now sore alittle able to go back to work tomorrow"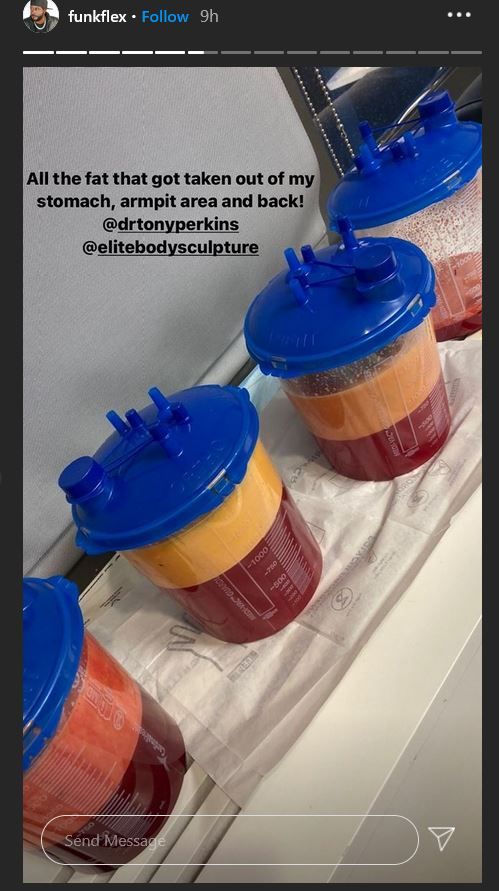 As expected (since the Internet has ZERO chill), folks started clowning him for streaming the procedure. Former NBA player Gilbert Arenas hopped in Flex's comments and wrote, "@funkflex naw fam they need to be more gentle then that he treating u like u dead."
Peep more reactions below:
I could've went my whole life without ever seeing Funkmaster Flex on the operating table getting liposuction and a BBL. 2020 continues to make no sense.

— ᴅᴏʟʟᴀʀ (@callmedollar) December 1, 2020
Watching Funkmaster Flex liposuction video pic.twitter.com/MuRb6ah22v

— The Lue Crew (@TheLueCrew) December 1, 2020
Funkmaster flex boutta be like pic.twitter.com/yCQZSwmN5E

— wear your fckin masks (@pbsotus_2) December 1, 2020
Funk flex after he heals from his new lipo pic.twitter.com/c5UyfVw34V

— Dylan Ali (@dylanali_) December 1, 2020
Ayooo. Nah. Nahhh this nigga funkmaster flex posted his liposuction on IG... my nigga I HATE THIS YEAR. Bruh

— Skipper Big Skip Energy (@HBKSkipper) December 1, 2020
Mr Cee when he see Funkmaster Flex: https://t.co/g7qmA7MRQ5pic.twitter.com/tUwt5QkXjJ

— Nathaniel Turner (@OwaJohnny) December 1, 2020
After the procedure, Flex said he's a little sore, but he'll be back at work at HOT 97 today. Well alright. If he likes it, we love it.
Photo: Flex's IG