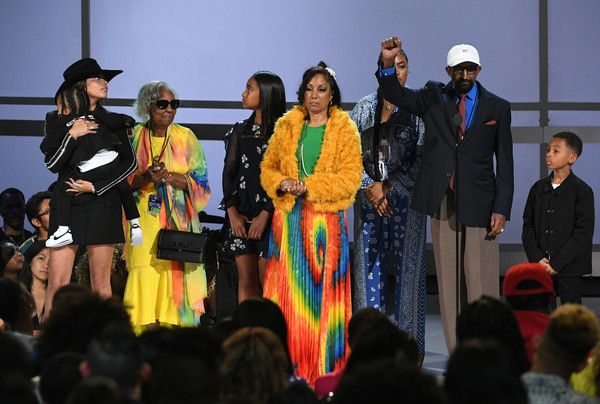 Nipsey Hussle's family was front and center for his tribute and Humanitarian Award, and his closest friends and fellow artists gave him proper tribute at Sunday's BET Awards.  Get into the deep messages his family brought - especially his mom - that  have everybody talking inside.
It's been only 2 months since Nipsey Hussle was murdered, and his legacy is still permeating everything, everywhere.  BET honored him posthumously with the Humanitarian Award, showcasing his strong belief in ownership, reaching back to help others, and unifying the neighborhood.
T.I. explained all of Nipsey's work that's still happening, and why he's the definition of Humanitarian:
Then Nipsey's family, including Lauren London and their son Kross, and well as Nipsey's sister, daughter Emani, grandmother  and parents.
His mom, Angelique Smith, gave a spiritual speech much like she did at his funeral, this time explaining exactly what happened at the scene of his murder minutes after.  She was there, and she says she and him were both preparing - weeks before his death - for his spirit to move on.  Her exchange with Nipsey's dad was...interesting too.
Since Neighborhood Nip  was known to bridge the neighborhood together - including the Bloods and Crips - his homie YG performed with 2 members of the Rolling 60's rocking airbrushed tees, showing off a Blood and Crip union on stage.  Plus, John Legend, DJ Khaled and Marsha Ambrosius performed the tracks they made with him.  Check it:
The whole thing had folks in their feelings.
Nipsey's Death was a glitch in the matrix and can't nobody tell me different. #BETAwards

— Charlamagne Tha God (@cthagod) June 24, 2019
What a strong young lady she is #RIPNIPSEYHUSSLE#BETAwardspic.twitter.com/hEl2mlHzs8

— YaBoiTae (@taeukno010) June 24, 2019
R.I.P. Ermias Davidson Asghedom.
Photo: Getty