The Fantastic Four cast is still heavy on the promo trail. And during a recent interview with The Grio, Michael B. Jordan was not impressed with his cast mates' rendition of Rihanna's "BBHMM." Peep his hilarious cover and get the deets on Angela Bassett's upcoming lesbian role in "American Horror Story Hotel" inside…
Hottie Michael B. Jordan and his Fantastic Four cast mates, Miles Teller, Jamie Bell& Kate Mara, are racking up frequent flyer miles as they continue on a heavily scheduled press tour for their superhero flick, set to premiere in theaters today (Aug. 7th).
While chopping it up with The Grio's Chris Witherspoon, the foursome was asked what track that's out right now would they say parallel the Marvel movie. As if it was rehearsed, Miles, Jamie and Kate break out singing Rihanna's infectious "B*tch Better Have My Money" in unison, but Michael looks totally over it. His face says it all!
Check it at the 2:50 mark:
 
Ha! 
In TV news....
Hey there gorgeous!
We told you Hollywood veteran Angela Bassett will be returning for the fifth season of the anthology series "American Horror Story: Hotel." Now, we have a few juicy details on her role. And it's something we haven't seen from the Golden Globe winning actress.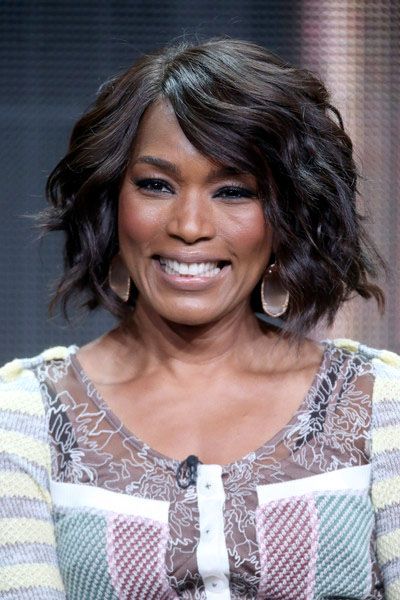 During FX's TCA panel at the Beverly Hilton Hotel today, Angela, sitting alongside her co-stars Sarah Paulson, Kathy Bates and Wes Bentley reveals she will have an on-screen sexual relationship with a Pop singer. Her character Ramona Royale is set to sex up the screen with Lady Gaga!
During the chat she said,
"I have a very strong, real, lasting relationship with [Lady Gaga] character, so I'm sure I'll be at odds with [Finn Wittrock] down there. My character is this fabulous actress of the day. I don't live at the hotel, but I visit very often."
Oh? That should be interesting.
We'll get to see her in action once the show premieres on Monday, October 7th at 10 PM ET on the FX Network.
Thanks to her incredible acting skills in the last season of "American Horror Story: Freak Show," she's in the running this year for an EMMY in the Outstanding Supporting Actress in a Limited Series or Movie category, up against "American Crime" starlet Regina King and Bessie actress Mo'Nique. Best of luck!
 
Photos: Getty