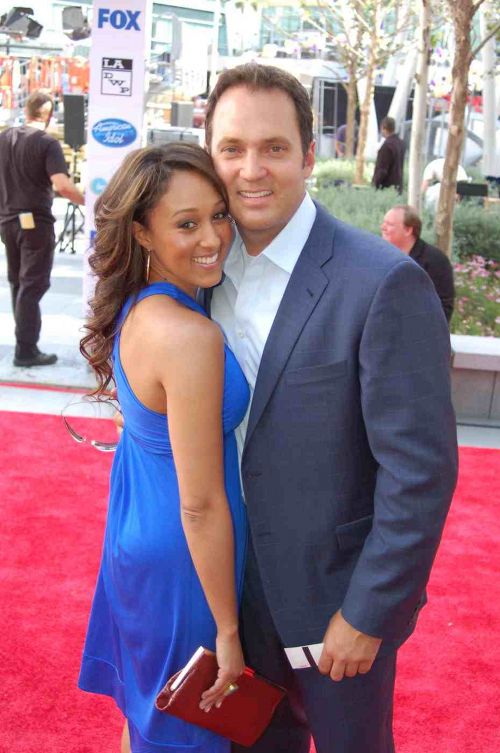 Tia & Tamera Mowry always prove just how in sync their twindom really is.  Almost 1 year after Tia gave birth to her son Cree, newlywed Tamera has announced she & hubby Adam Housley are pregnant! 
Deets on the couple's soon-to-be bouncing bundle of joy inside...
Despite revealing just this past October to TheYBF.com (and also on her "Tia & Tamera" reality show) that she and her Fox News correspondent husband, Adam Housley, were far from having babies be a part of their immediate future--all that has changed.
33-year-old actress Tamera Mowry-Housely just announced she is indeed pregnant with the couple's first child.  In a statement, the upcoming Fox "Rebounding" actress revealed:
"Adam and I are excited about having a baby and the blessing that he or she will bring to our lives and to our family and friends. We can't wait to meet this little miracle!"
And it was all thanks to their "amazing" trip to South Africa that changed their minds about having babies so soon.
Tamera told People/Celebrity Babies:
"[South Africa] is just so beautiful there and you get a whole new perspective on life, the things that really matter.  Adam and I looked at each other and said, 'Why wait?'"
Makes perfect sense. 
The couple--who married last May outside of Napa Valley--have a due date of early November.  And what did the cute Tamera have to say about that all-day first trimester sickness?
"The first trimester was a little rough. I was extremely fatigued and had morning sickness — more like evening sickness....Luckily, it has subsided in my second trimester. I feel great as of now — more like myself."
And just like a twin, her sister just "knew it":
"Her first reaction [when I called to tell Tia] was, 'I KNEW it!'  Tia is beyond thrilled. Cree now has a play date in the future!"
So happy for her!  The sisters kick off the second season of their super cute show "Tia & Tamera" June 11 on the Style Network.  Can't wait!