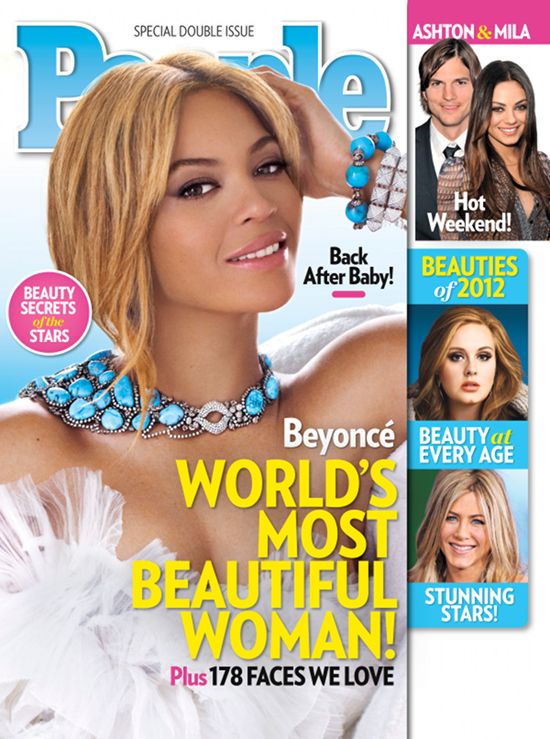 People magazine just released their annual World's Most Beautiful issue.  And new mom Beyonce Knowles has been crowned the Most Beautiful Woman In The World.  The "Countdown" singer and superstar dishes on why mommyhood makes her feel more beautiful than ever, and even addresses a few of those foolish rumors...
The 16-time Grammy Award winner is showing no signs of slowing down.  She's quickly getting back to her pre-baby weight (even though "curvy Bey" is just as fabulous) and planning her big return with rumors of another world tour, her big A Star Is Born remake, and rumors of another album.  And she's looking happier than ever these days taking her baby girl Blue Ivy to & from work.
It's her ninth time making the list, but Beyonce told the mag in her first official post-baby interview that there's no bigger accomplishment than her baby girl:
"I feel more beautiful than I've ever felt because I've given birth.  I have never felt so connected, never felt like I had such a purpose on this earth."
And just how cute is that little 3-and-a-half month old to her mama and proud papa Jay-Z?
Bey gushed, "She's just the cutest thing.  She looks like Blue.  She's her own person."
She also told the mag she croons one-of-a-kind tunes to her daughter and professes to "love" changing diapers.
"The best thing about having a daughter is having a true legacy," she adds. "The word 'love' means something completely different now."
Sweet! 
Get Beyonce's entire exclusive interview with PEOPLE, in which she shares her beauty secrets, reveals how she lost the baby weight and sets the record straight, on all the rumors, on newsstands Friday, April 27.
And she's indeed bearing the children & getting back to business.  The 30-year-old workaholic is prepping for her big return to the stage for 3 nights this Memorial Day Weekend at Revel Resort in Atlantic City.
*UPDATE* Beyonce posted on her Tumblr about her new honor saying, "I am humbled and thankful - B".  And also posted this behind the scenes video of her People shoot: