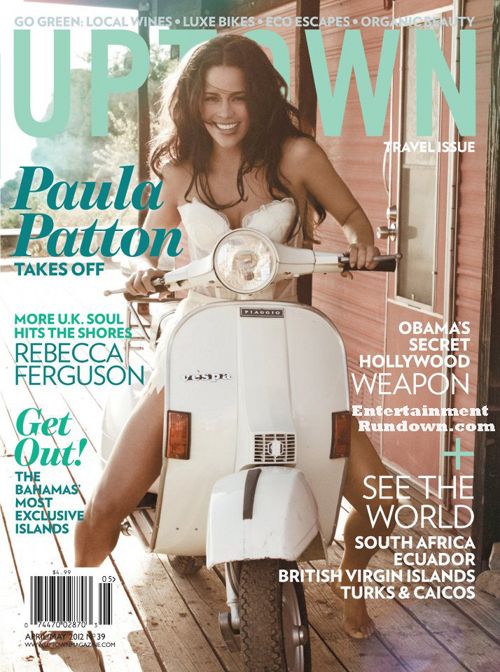 Paula Patton is looking fab on the cover and pages of UPTOWN Magazine's Travel issue.  Check out the box office darling's new pics, plus Vanessa Williams dishing on the upcoming Series Finale of "Desperate Housewives," inside...
In what the magazine has deemed it's "largest issue ever with 105 ad pages," UPTOWN magazine tapped one of Hollywood's it-girls for their new April/May 2012 Travel issue.  On the cover, Paula is rocking a strapless white sexy embellished mini dress against a rugged outdoors background while riding a vintage scooter.  And on the inside:
The Pepsi Next spokeswoman and mom of 1 is showing off her killer bod in denim mini shorts and a lace-hem cropped top.  In the issue, which focuses on the fabulous destinations of Turks & Caicos, Bahamas & Anguilla, the Mission Impossible 4 star opened up about the changes in her life.
Paula, who has been married to Robin Thicke for 7 years as of this coming July, speaks her fear of monotony, rumors about her personal life, her inevitable life in film, having grown up across the street from the 20th Century Fox lot in Los Angeles and reveals why she's not just another pretty face.
And speaking of pretty faces, Vanessa Williams is gearing up for the conclusion of ABC's "Desperate Housewives" series.  She became a permanent staple on the show since its 7th season.  So she stopped by "Racheal Ray" with her mom to discuss their new book, You Have No Idea, and the end of the series after this 8th season.  Check out a glimpse of what they spoke on before the episode airs tomorrow on CBS (4/25).
Vanessa on "Desperate Housewives:"

The girls have been fantastic to me. It's redefined what television is for women of our age.

Vanessa reveals details on the big finale:

Renee does end up in a wedding dress. There's actually more than one and it's hilarious how it all goes down.

Vanessa on coworker Eva Longoria:

The hardest working gal on the planet. She's a mini mogul.

Vanessa on her mother's support:

There's a big part of my life that my mother has a big part of in terms of warning me, in terms of being there for the victories and supporting me through the defeats.

Vanessa's mother on her grandchildren:

I've learned to relax and enjoy them. I've also learned Facebook and Tweeting.
Anybody else feeling the bitter-sweetness of "DH" ending?  I've watched since episode 1 season 1.  Sigh.
Reportedly, Vanessa is set to star in the upcoming ABC supernatural 1-hour drama series "666 Park Ave," based on the book series by Gabrielle Pierce.  Here's a synopsis:
Like the books, the drama centers on an innocent couple from the midwest that moves to New York and gets hired to be resident managers of a building on the Upper East Side. There, unbeknownst to the couple, the residents have all unwittingly made deals with the Devil to have their deepest needs, ambitions and desires fulfilled.
I already know I'll be watching...