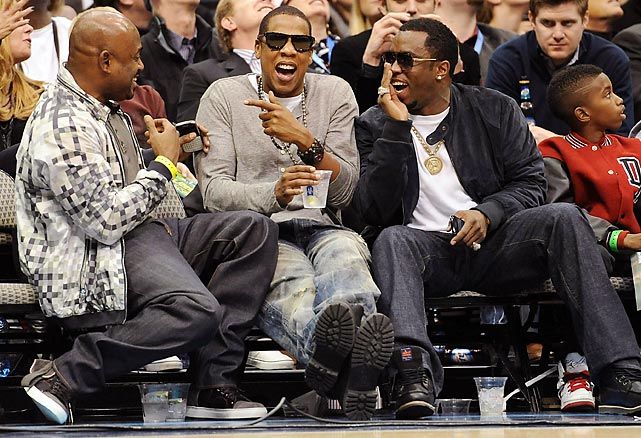 Well we'd be cheesin' this hard too if we were worth over a billion dollars combined. FORBES just released the 5 wealthiest hip hop artists.  And the usual suspects are indeed on the list.  While the names are no surprises, their worth may be.
Check out who's in the top 5 inside...
These fellas are well on their way to reaching that elusive billion dollar circle.  Check this rich people ish:
Sean "Diddy" Combs is the king of the list...having an estimated net worth of $550 million.  Now Kim Porter & Cassie's inability to leave him alone makes a least a little more sense.
The Bad Boy head honcho is ca-chinging all over the place with his partnership with Ciroc Vodka.  He gets a double digit salary annually to be the face of the liquor and to push t to the masses.  In addition to several shares of the company.  Not to mention he's entitled to a nine figure sum of money if the Diageo company ever sold Ciroc.
He's got stakes in the Sean John & Enyce clothing companies, his marketing firm Blue Flame, a few tech startups and his own Bad Boy label.  And since he will actually have ownership of his new Revolt tv channel (not just stakes) in 2013, it could possibly push him into the billionaire category in the next few years.
Shawn "Jay-Z" Carter has a reported networth of $460 mill.  His stakes: 40/40 Clubs, the ad firm Translation, NJ Nets, Carol's Daughter & more.  His $150 mill 10-year deal with Live Nation (signed in 2007) and $204 mill deal selling his Rocawear label (2004) are part of his net worth, as well as his major tour money.
Dr. Dre is #3 with a $260 mill net worth.  The price on his lifestyle doubled due to the $300 mill sale of his BEATS headphones to HTC.
Birdman takes the $4 spot with $125 mill.  Mainly thanks to his $30 mill deal he twerked with Universal Records for them to house his  Cash Money Records label he and brother Slim founded decades ago. And the new crop of YMCMB folks like Nicki Minaj & Drake, in addition to the original head honcho Lil Wayne, who up the value of the company.  By the way, Universal's deal with Cash Money is up this year--so a high priced bidding war amongst the record labels may ensue.
And capping off the 5 is 50 Cent.  He's got a $110 mill net worth....with $100 mill stemming from that HUGE Vitaminwater deal where the company and his stakes were sold to the Coca-Cola company. He's made some millies from touring and sales from his clothing company, but has also spent a lot on cars, trips, and living that life.  But he's still sitting on the nest egg of his back catalog, acting gigs and 50 Cent-themed videogames, shoes and books, as well as his new headphone line SMS.
FORBES posted this message in regards to how the list was developed:
In order to form the Forbes Five list, we followed the same procedures we use to calculate our list of the world's billionaires—looking at past earnings, valuing current holdings, leafing through financial documents and talking to analysts, attorneys, managers and other industry players to find the nitty-gritty details. We considered only performers, which is why hip-hop mogul Russell Simmons isn't on this list.
Congrats to the fellas!
The Randomness:
1.  Newbie rapper Azealia Banks has signed Lady Gaga's manager, Troy Carter, as her own manager. STORY