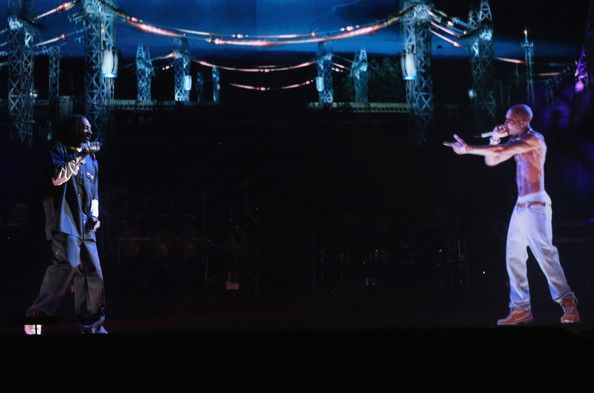 Coachella Day 3 wrapped up with Snoop and all his friends hitting the stage...with an eerily realistic hologram of Tupac Shakur performing as well.  And yes, his mom approved.
Pics and video inside, plus a sneak peak at Mr. Nas' upcoming VH1 "Behind the Music"...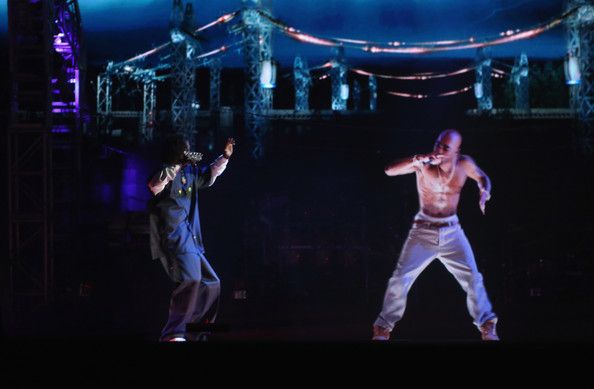 Hologram creator Nick Smith recently dished on bringing the iconic rapper back to life for yesterday's Snoop & Dr. Dre set. The Tupac image, which was all Dr. Dre's idea, was created in the very realistic likeness of the late rapper as he perormed his tracks "Hail Mary" and "2 of Americaz Most Wanted."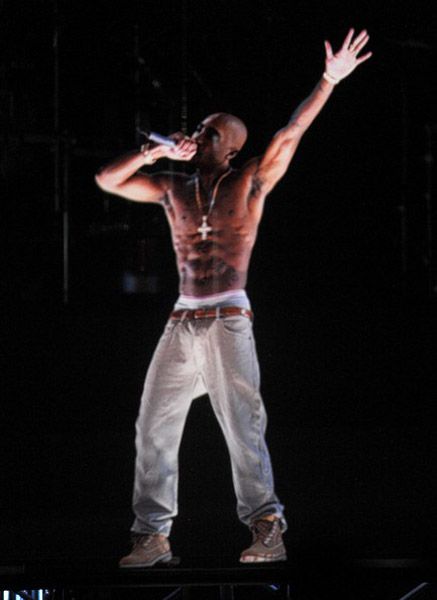 Smith wasn't allowed to discuss all the details of the creation of the Hologram (the image and movements were an original creation --not parts of an old concert), but MTV reports:
Smith said he wasn't allowed to talk about the creative aspects of the production — including how the hologram was able to seemingly perform the set in synch with Snoop and whether all the vocals were 'Pac's — but he did say that his company has the ability to recreate long-dead figures and visually recreate them in the studio. "You can take their likenesses and voice and ... take people that haven't done concerts before or perform music they haven't sung and digitally recreate it," he said.
The shirtless Timbaland-wearing Tupac hologram (which cost anywhere from 100K-400K) opened up alongside Snoop & Dre (who have been working together for 2 decades now) saying "What's Up Coachella?!"
Tupac's mom, Afeni Shakur, told media she was "thrilled" by the hologram performance.  She said it was amazing to see, but bittersweet as well.
Nate Dogg was orignally scheduled to perform in Hologram form as well, but the idea was scrapped last minute and replaced with a video tribute.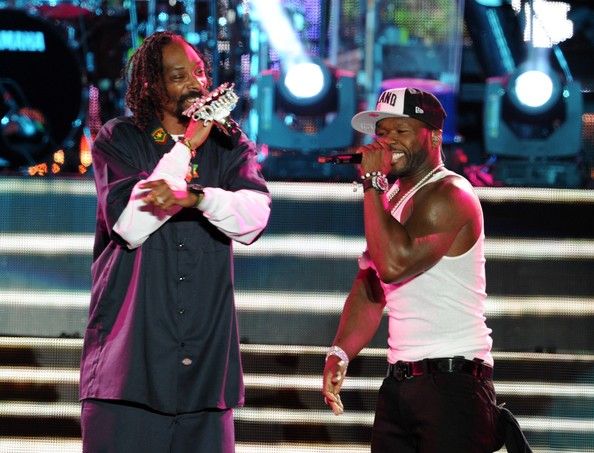 50 Cent also hit the stage with Snoop.
They rocked out with "What Up Gangsta" with Tony Yayo by his side, swaggering into and "P.I.M.P." with Snoop, and closed with "In Da Club."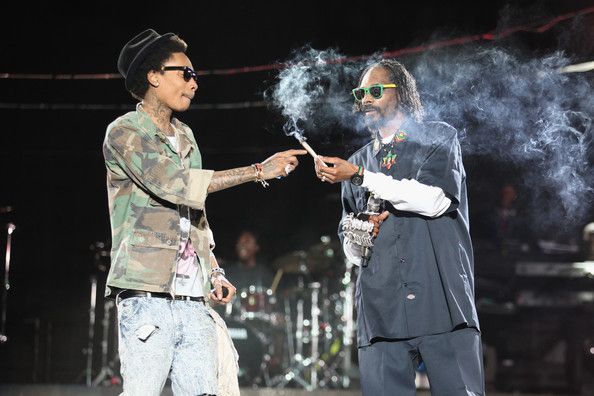 And, of course, Wiz Khalifa hit the stage with Uncle Snoop to perform a couple tracks and share some weed.
Here's video of Tupac and Snoop performing together:
Eminem hit the stage as well with his longtime collaborator Dr. Dre.
And if you're a fan of The Weeknd, the crooner hit the stage for his own hour long set--including his track with Drake called "Crew Luv":
In other rap news, Nas is about to premiere his VH1 "Behind The Music" episode on  Wednesday at 9p EST . Check out the sneak peek below:
Esco dishes on his Queens background, his parents, dealing drugs, and his careless behavior.  His album Life Is Good is set to release soon on a yet-to-be unveiled date.