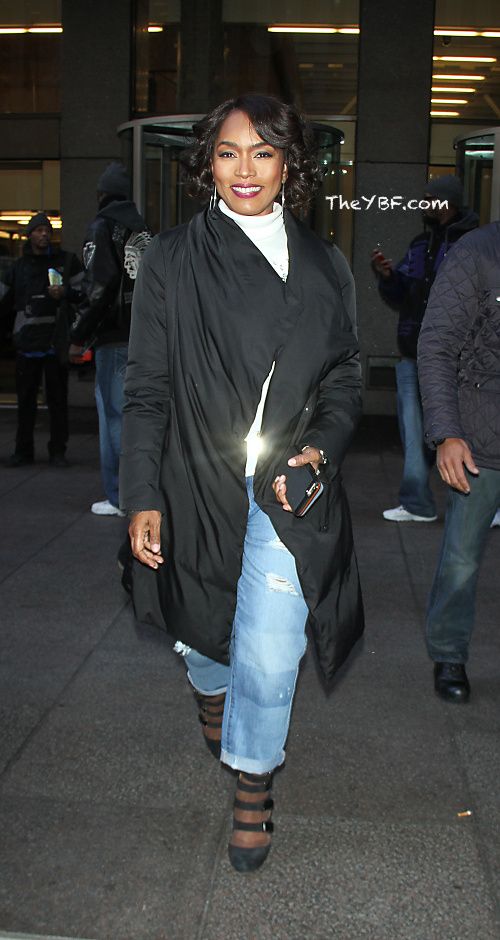 Today on "The Real", the ladies chat it up with fab chicks Angela Bassett and Mel B.  We've got clips of Angela dishing on her "Whitney" bio pic and more inside....
Oscar-nominated actress Angela Bassett was spotted leaving SiriusXM in NYC yesterday (atop) where she stopped by to talk about her Lifetime bio-pic 'Whitney' (Satuday at 8/7C).  The film (starring Yaya DaCosta as Whitney Houston) is Angela's directorial debut. 
In addition to doing tons of press on both the east and west coasts, Angela appears on "The Real" where she opens up to the ladies about directing the movie and the experiences she shared with Whitney on the set of Waiting to Exhale.
She told the ladies,"Whenever we came together, even from afar, we had an admiration for one other. Working with her on "Waiting To Exhale" was magnificent. One of my favorite movies, ever! It was a great moment in time and like everybody just loved and admired her."
BONUS:
While on the promo trail, Angela also spoke to ABC Radio, here are highlights from the interview.
In her film, Whitney Houston introduces cocaine to Bobby Brown. Angela explains why:

"She was a grown woman and I think we do her detriment when we say that she was so weak minded, this 24-year-old woman," says Angela. "You meet a 19-year-old man and he is such a Svengali and a puppet master that he can make you do lines of cocaine? Just thinking about that I find that hard to believe."

Why fans blame Bobby Brown for Whitney's drug habit:

"It's human nature to want to scapegoat and [have] someone to point the finger at, especially when there is such a loss...of such a beloved individual to your community, to your life, to your culture, to your soundtrack," she says. "So you gotta have a bad guy, you gotta have a demon, you gotta have the devil, you gotta have something to say it wasn't her fault. She didn't make a choice. The choice was made for her by Bobby. And that's a lie."

Why Whitney's songs had to be re-recorded even if family was supportive of film:

"Even if the family were, let's say, 'on board' the songs would've had to be recorded anyway. A lot of Whitney's songs, if you look at them, they are seven, eight, nine-minute renditions," she explains. "You can't use that and I know that from doing What's Love [Got to Do with It]," Angela says, referencing her starring role as Tina Turner in the hit 1993 biopic. "We had to redo those songs, all of those songs for whatever reasons. They were old recordings and scratchy or they're new recordings and they're just too long."




 
Then......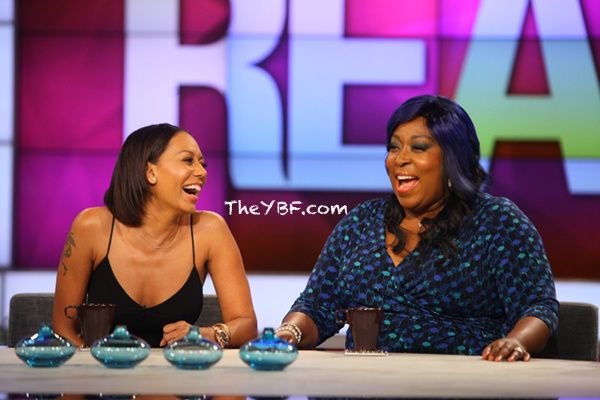 "AGT" host Mel B stopped by the table to dish on her numerous telelvision gigs and her family (including her husband Stephen Belefonte).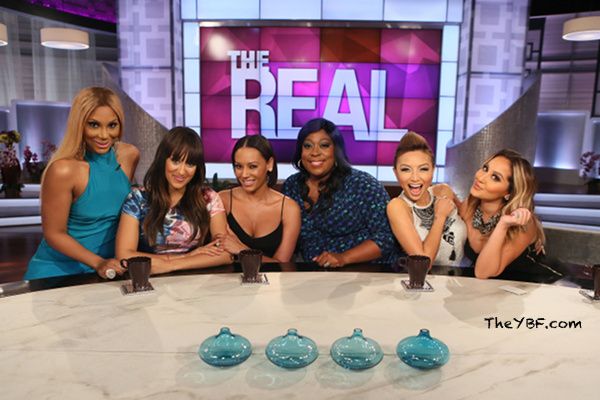 You'll recall that Stephen and Mel made headlines around the world when the tabloids claimed they were divorcing last month, but Mel didn't dwell on that drama.  Instead, she gave the ladies their own "Spice Girl" names.  Check it out...
Photos via Roger Wong/INFphoto.com