Looks like Christina Milian and Karrine Steffans are BICKERING over Lil Wayne (sighs...) on social media. Get the receipts inside….
Christina Milian pretty much confirmed she and Lil Wayne are officially an item calling him her "man crush everyday" while chatting it up with Wendy Williams yesterday. And now, one of Wayne's ex-lovers is coming for "Tina Turn Up".
The "Start A Fire" singer is currently busy on a promo run for her upcoming E! docu-series "Christina Milian Turned Up" (which debuts this Sunday), pictured above posing it up in a Azul shirt, Valery Kovalska jacket and Ruthie Davis shoes during an event at Chester restaurant inside the Gansevoort hotel in NYC last night. But chick found time to clap back at a former video vixen who use to mess around with Lil Wayne after she tried to start some ish on social media.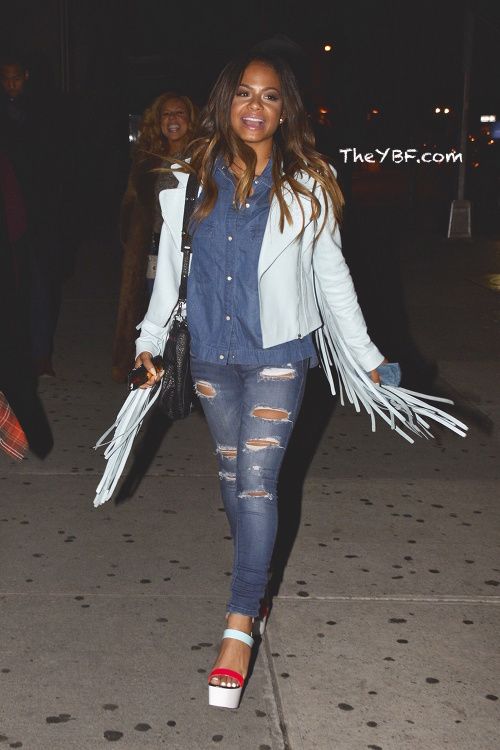 The video vixen in question? Weezy's ex-jumpoff Karrine "Superhead" Steffans. You know the chick who said she will always love Lil Wayne and even wrote a book inspired by him in 2013 How to Make Love to a Martian. Yes, her: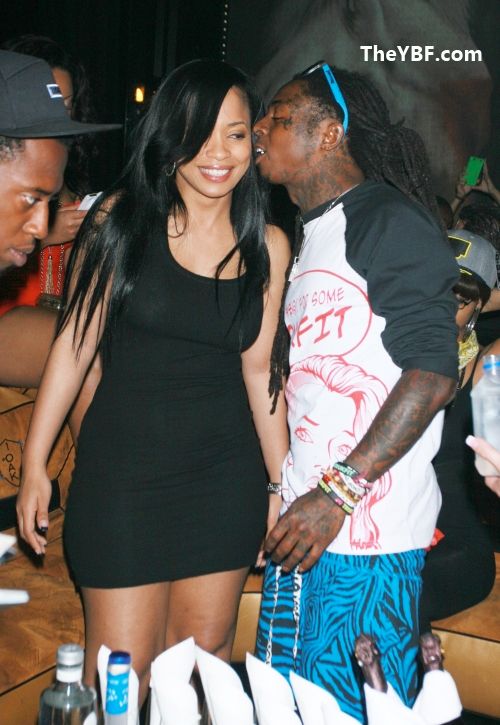 She hopped on Instagram the other day with an indirect subliminal that could have been meant for Christina. She posted a pic of a street sign that read "Wayne" and she captioned it saying, "And most importantly, little girl, be careful not to claim a man who belongs to the world".
Check it: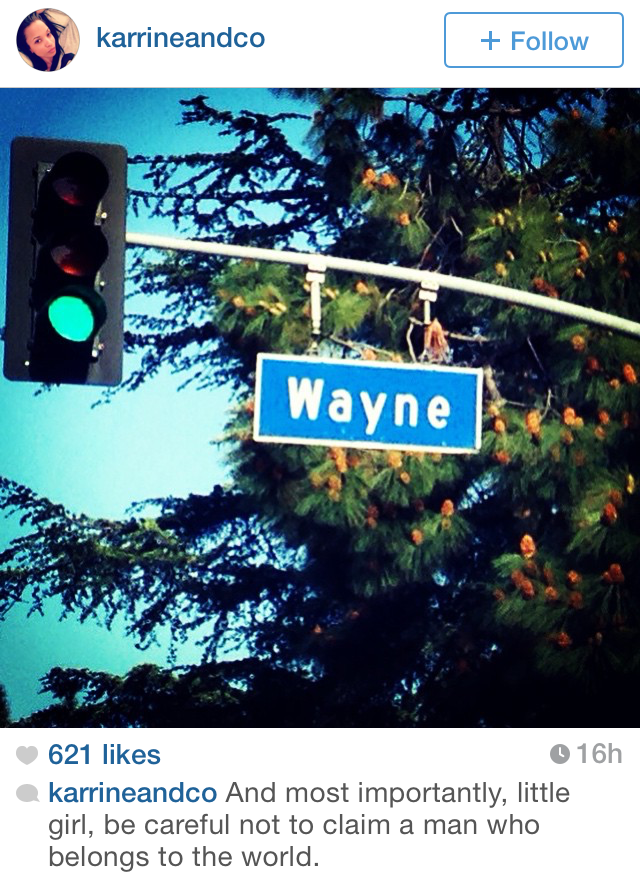 People were going off in the comments saying her post was directed at C-Milli, but Karrine tried to deny it and said it had something to do with a lesson she learned in life. Hmph. (Note, she has deleted the post).
C-Milli threw a subliminal shot of her own on Instagram (which may or may not have been directed at Karrine, but we're going with the latter):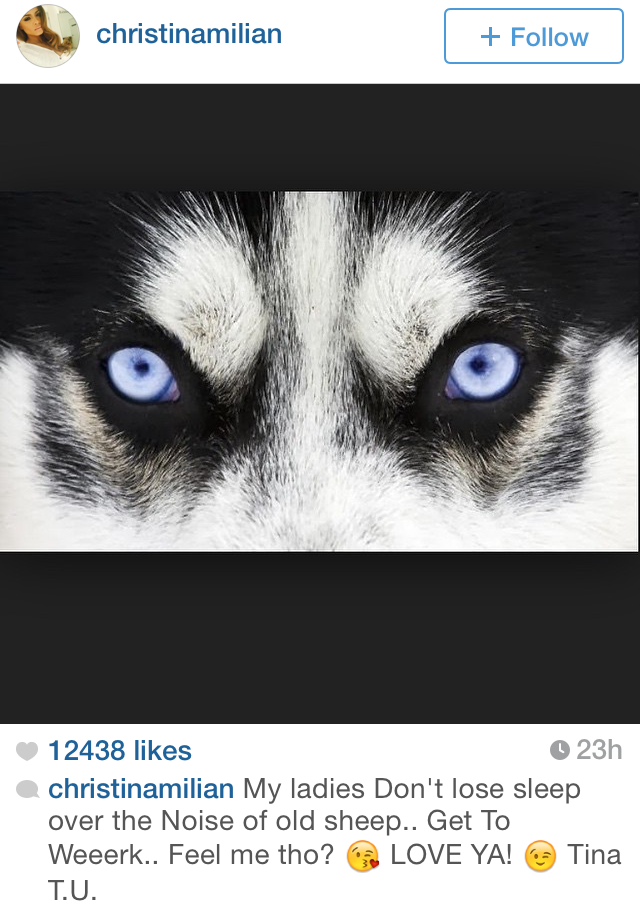 "My ladies Don't lose sleep over the Noise of old sheep.. Get To Weeerk.. Feel me tho? LOVE YA! Tina T.U."
C-Milli wasn't finished either. She spotted a post on social media of Karrine's shade and popped off in the comments. She said (and deleted):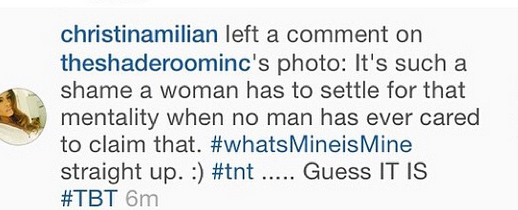 "It's such a shamed a coman has to settle for that mentality when no man has ever cared to claim that. #whatsMineisMine straight up. :) #tnt ..... Guess IT IS #TBT"
Bloop!
Then, Karrine responded with a long message about "not everything is about you" and that fact she responded may prove she's very insecure. She wrote: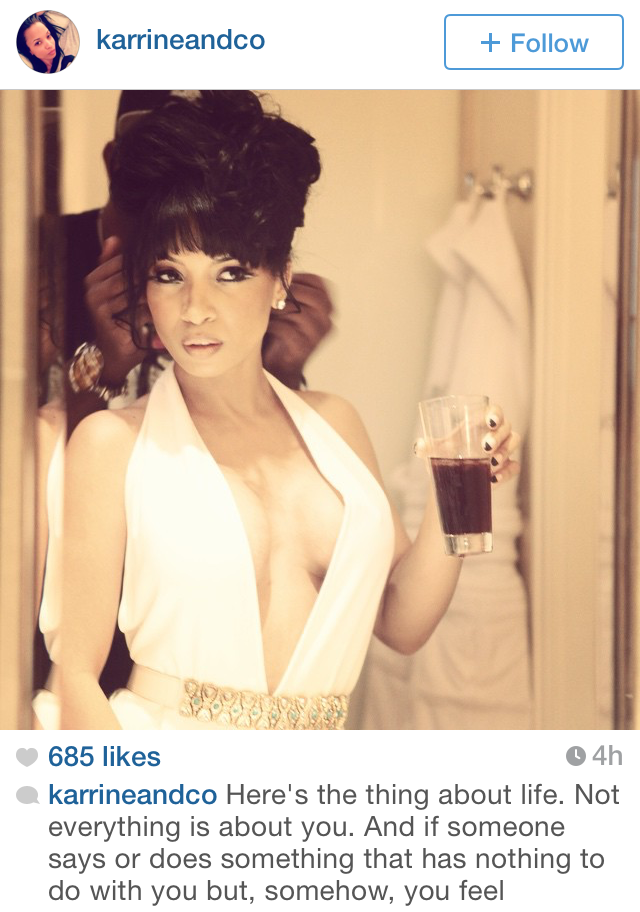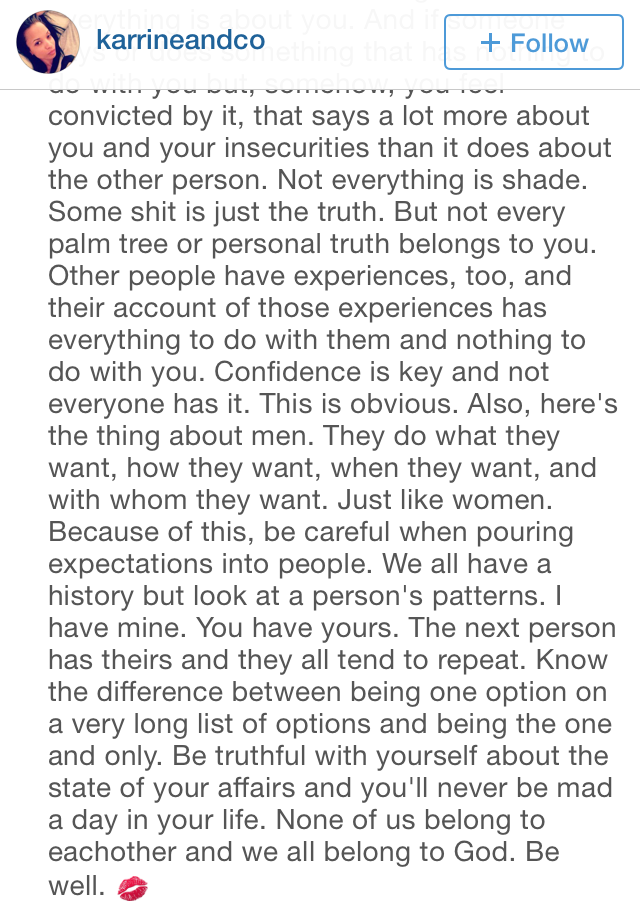 The former video vixen also popped off on Twitter with this:
And she wasn't finished. This morning she came for C-Milli again and posted: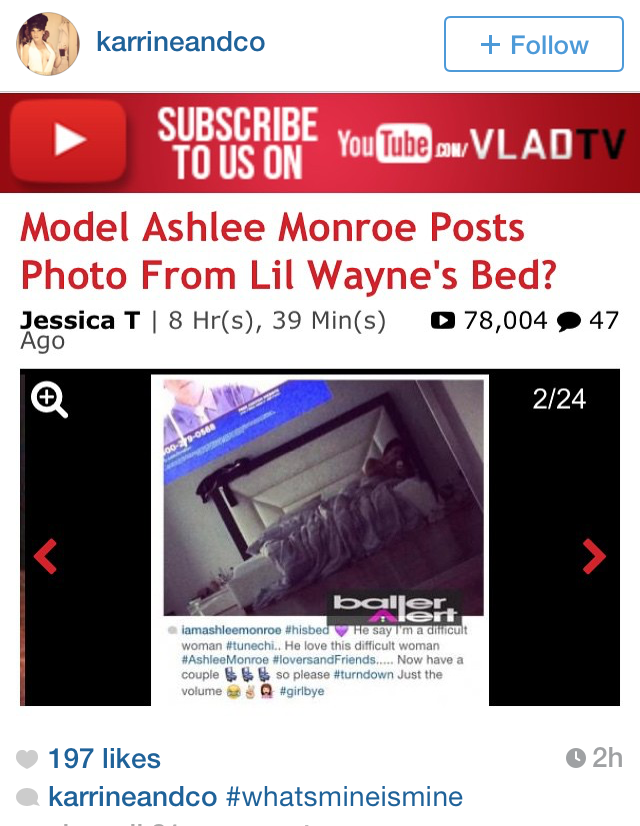 For someone who claims to be married (we believe 0.05% of everything that comes out of her mouth), she really is doing the most.  And so is everyone in the situation...
We're still fighting over Lil Wayne's community penis in 2015?  Sighs....
Photos: Pacific Coast News/WENN/Christina's IG/Karrine's IG/TSR's IG/Baller Alert