Last night, Nick Young and his girlfriend Iggy Azalea showed out on the kiss cam at the USC vs. UCLA basketball game in L.A. But last week, Nick was spotted extra hugged with some chicks after partying at Hooray Henry's. And none of them were Iggy. Deets inside….
Last night was date night for L.A. Lakers baller Nick Young and his girlfriend Iggy Azalea. The NBA baller brought his chick along to cheer on his alma mater USC Trojans as they battled it out on the court against UCLA Bruins at the Galen Center.
The two missed the first half of the game, strolling in during halftime but they made sure to let everyone know they were in the building. The real show was courtside after Nick & Iggy got extra kissy (and by kissy we mean LICKEY) for the Kiss Cam: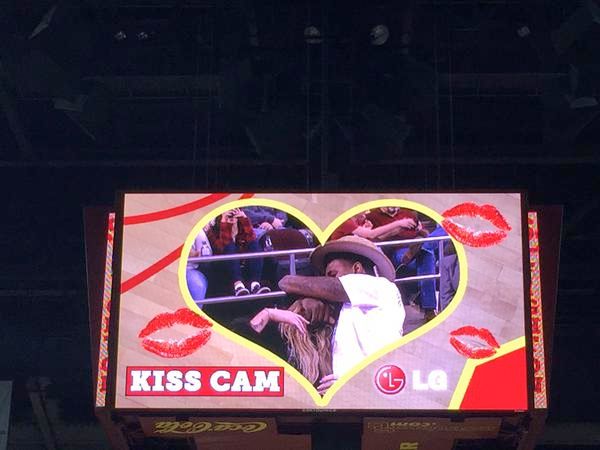 Then Iggy took it up a notch and LICKED Nick's face:
Well alright. Unfortunately for USC (and Nick), they took a L (83 - 66) against UCLA. Nick will get back to work when the Lakers play the Utah Jazz tonight at the EnergySolutions Arena.
It's interesting he's all wrapped up in PDA with his main chick just a couple days ago, because a few days prior he may have been dibbling and dabbling in some extracurricular activities. Like what you ask?
Well, after partying at Hooray Henry's last Saturday, "Swaggy P" was spotted arriving at a private home with a chick (or two) and neither of them appeared to be Iggy. Dude was extra hugged up and touchy feely as they made their way inside. And get this…they all hopped out of the 1962 Chevy Impala Iggy gifted him for Christmas. Don't believe us? Peep the pics here.
Hmph.
 
Photos:@USC_Athletics/@jayr_inmylifetime/@jstorm482