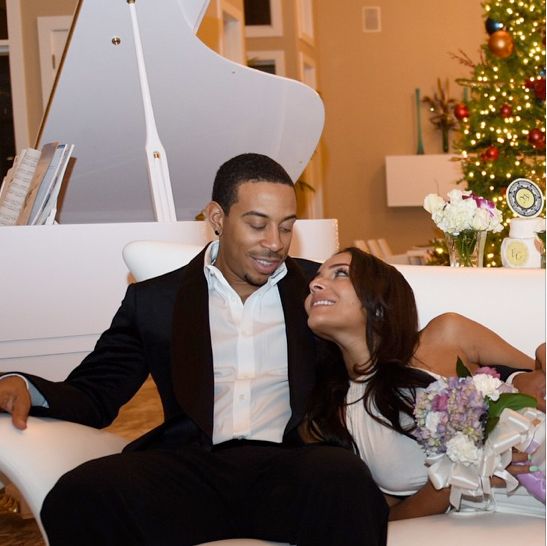 Now that Ludacris and Eudoxie have tied the knot, the blushing bride is spilling new details about their intimate ceremony. And she's also clearing up those rumors about Luda's mom choosing her wedding dress. Get the deets inside….
Ludacris didn't waste any time to make his longtime girlfriend Eudoxie his wife after popping the question. Matter of fact, the two secretly tied the knot in Georgia on Christmas Eve, the same day he proposed. The mile-high engagement (which Luda shared on Instagram) in Costa Rica was actually their "honeymoon" because the two had already jumped the broom.
Now, the blushing bride is dishing the deets on her "perfect" wedding ceremony, shooting down rumors that Luda's mother picked out her wedding dress and that it was waiting on her when they returned from Christmas Eve dinner.
According to Eudoxie, the dress she wore on her special day was a gift she received 4 years ago that holds sentimental value to her. She said:
  
#tbt The dress I chose to wear on my wedding day was a gift from 4yrs ago that holds sentimental value to me. #noteverythingyoureadistrue #Itwastheperfectdayforus #bestdayofmylife #MrsBridges
It was also reported the wedding ceremony was a total surprise and that she knew nothing about it. But, that doesn't seem to ring true. Eudoxie told E! News she AND Luda CHOSE a simple and intimate wedding, which means, she was in on the wedding planning details. She dished,
"We chose a simple and intimate wedding that was perfect for us," Eudoxie shared with E! News exclusively. "We wanted the day to be about our loving commitment to each other."
Mrs. Bridges (who is originally from Gabon, Africa) also incorporated the American "something old, something new, something borrowed, something blue" tradition into her ceremony. Since she's unfamiliar with the tradition, the couple had to quickly gather the items before they made their way down the aisle.
The bride's "something old" was her wedding dress, "something borrowed" was a pair of pearl earrings gifted from a loved one and her "something blue" was blue hydrangeas in her bouquet. Her "something new" wasn't revealed. Hmm…was it a ring? We have yet to see that.
 
We're sure the mother (Tamika Fuller) of his daughter Cai Bella (whom he had while on a "break with Eudoxie) is sitting back taking notes on a notepad to present to the judge for for their custody hearing at the end of this month.
Photos: Eudoxie's IG