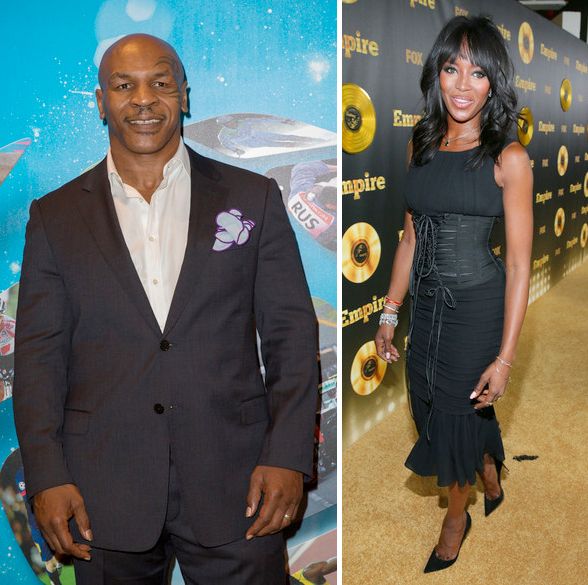 Details of an alleged bathroom sex session between Mike Tyson and Naomi Campbell at one of Russell Simmons' house parties from back in the day have surfaced. And it is JUICY! Deets inside….
When the vintage tea starts spilling, pull out that mug, prop your feet up and get comfortable. This is some tea you DEFNITELY want to sip.
Heavy-weight boxing champ Mike Tyson has some skeletons in his closet. And his friend/(former?) manager Rory Holloway is spilling the beans in a new autobiographical book about the boxer's life titled, Taming the Beast: The Untold Story of Mike Tyson.
In the book, Rory dishes the deets on a night Mike Tyson and supermodel Naomi Campbell were allegedly involved in some extra curricular activities during a house party back in the 90's.
Apparently, Rory acted as Mike's voice of reason to keep him out of trouble so he could continue being the undisputed heavy weight boxing champ of the world. One night, the guys hit up a house party thrown by Russell Simmons….when in walks supermodel Naomi Campbell. The two had never met before, but clearly took a liking to one another. Rory writes,
"I was there to keep Mike out of trouble, doing my usual babysitting job, and when I looked over, he was talking to this girl," Holloway writes.

"I had to rub my eyes. I mean, the most exciting thing at that time was Naomi Campbell. She was wild and vivacious, with these legs that went on for days."
Mike and Naomi start chopping it up, when Mike suddenly has to use the bathroom. He asks Rory to hold their drinks and next thing you know Naomi follows behind. He said,
"I'm stuck holding their drinks 'cause Mike says he gotta use the restroom. Next thing I know, Naomi's following him in there. Holy s–t. Guests are walking up. 'Bathroom's taken,' I'm telling them.
Then….THIS happened:
"Minutes go by and it's getting uncomfortable. I finally crack open the door, 'C'mon Mike.' I see Naomi. She's up on the toilet, heels and long legs spread, skirt hiked up, and Mike's pumping away."
LORDT!
And there's more….
He also recalled a time Mike tried to start some ish with NBA legend Michael Jordan during a dinner party. Mike and Rory hit up a Chicago restaurant linking up with Michael Jordan, former Chicago Bears coach Mike Ditka, former defensive end Richard Dent and boxing promoter Don King. The boxing champ was sort of on edge due to divorcing his first wife Robin Givens and apparently was taking the separation hard.
The fact that Michael Jordan dated his soon-to-be ex-wife (at the time) before they got together must have triggered some internal anger and he went straight ape sh*t.
According to an excerpt via the NY Post:
"Mike Tyson's sitting there with his drink of choice, a Long Island Tea, and when he drinks his real feelings come out …," Holloway writes.

"I'm telling the server to water his drinks down 'cause I see where this is going. Mike stares across the table at Michael Jordan. He says, 'Hey man, you think I'm stupid? I know you f—-d with my b—h.'

"Jordan looks like he just seen a ghost. 'I know you messed with her,' Mike says. 'You can tell me.'

"Jordan, it's obvious he just wants to get up and run. He wants no part of this. Mike turns to Ditka. 'Man, you think somebody scared of you, all that racist s–t you been talking?' He says to Dent, 'Y'all scared of this damn white man, Richard? He ain't nobody. You gonna let him talk that way?'

"It was a circus, for real, that night. Don King trying to change the subject. Me and John trying to hold Mike down. Mike telling everyone he's going to bust Jordan's ass. Jordan's dressed sharp as always and he can't get out of there fast enough."
This CERTAINLY seems like a page-turner. If interested, you can cop his book on Amazon.
Photos: Getty/Bruce Weber