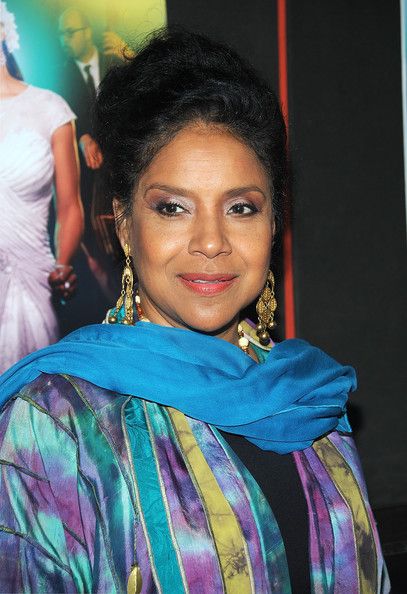 Phylicia Rashad appeared on NIGHTLINE last night where she clarified her comments made regarding the Cosby allegations.  Watch her first on-camera interview inside and see Vivica A. Fox defend Cosby as well...
Yesterday we brought you a Phylica Rashad interview with Showbiz 411 where the Tony-winning actress was asked about the Cosby accusers.  Her quote began, "Forget these women. What you're seeing is the destruction of a legacy. And I think it's orchestrated. I don't know why or who's doing it, but it's the legacy. And it's a legacy that is so important to the culture."
The comment went viral and thrust Ms. Rashad into the national debate, with many slamming her for being dismissive of the accusers. But last night, she appeared on Nightline in her first on-camera interview regarding Cosby, where she cleared up her comments and expounded on the destruction of his legacy.  By the way, the interviewer of the Showbiz interview said they made a "punctuation" mistake.
When asked about the "forget these women" quote, she said:

"I am a woman. I would never say such a thing. I would never think such a thing. My message is, what happens to a nation in which people knowingly and willfully disavow the tenets that describe the nation? ... This is not about the women. This is about something else. This is about the obliteration of a legacy."

On innocent until proven guilty:

"We are really missing what is wrong here, which is, this is the United States of America. I know it's changing, but it's still the United States of America and there are tenets that we live by. There is the Constitution of the United States, which ensures innocence until proof of guilt and that has not happened."

On the destruction of Bill Cosby's legacy:

"But what has happened is declaration in the media of guilt, without proof. And a legacy is being destroyed because of it. It's being obliterated."

On Bill Cosby...the individual:

"Speaking to the character of the man that I know, this has not been easy. This has not been easy at all but he's not a coward. I don't know what he will do in that way but I know that he won't be hiding. ... He likes being around people too much and he respects people."
Watch the interview here:

More ABC News Videos | ABC World News
In other Cosby related interviews....
On today's episode of The Meredith Vieira Show, actress Vivica A. Fox stopped by to discuss the firing of Keshia Knight Pulliam off "Celebrity Apprentice"  and how that related to the Cosby allegations.  Vivica, who also worked with Cosby, defended Keshia and shared her views saying,
On how Keshia Knight Pulliam handled herself in dealing with those Cosby questions?
Like a class act. She did. It's part of it, that they would attach her name to Mr. Cosby because they have history together. I worked on the Cosby show and was honored to do the show, and I have to agree with Keshia, the man I met was nothing like the man they are describing. He was nice, kind. There was no sexual overtones or anything so I defend him and I stand by him as well too.
On the allegations and how this will affect his legacy:

We shall see, we all weren't there and as I said the man I met and worked with was nothing like that.
BONUS:
Meredith put Vivica in the hot seat about calling Kenya Moore a #ToxicTrick and all we can say is....the ish got real.  We don't know what Kenya Moore did during the taping (other than that alleged phone theft)...but Vivica is STILL mad.  She said,
"I was just absolutely shocked. When you do "Celebrity Apprentice" it's definitely a cut-throat, business soap opera, that kind of plays out. Nothing's forced, there's nothing script. They kind of put you together for 12 hours a day, six days a week so guess what some people are going to get tired, they are going to get testy and the desperation that she showed towards the end, when the week before she was calling me her friend, her sister, I had let her borrow my gown for one of the projects, I just thought wow. I had never been that close to a person then the second I turn around stab me in the back. I just called her behavior toxic and instead of calling her the b word, I called her the t word, trick. "
Chile......
Vivica's episode of The Meredith Vieira Show airs today....
Photos via Getty