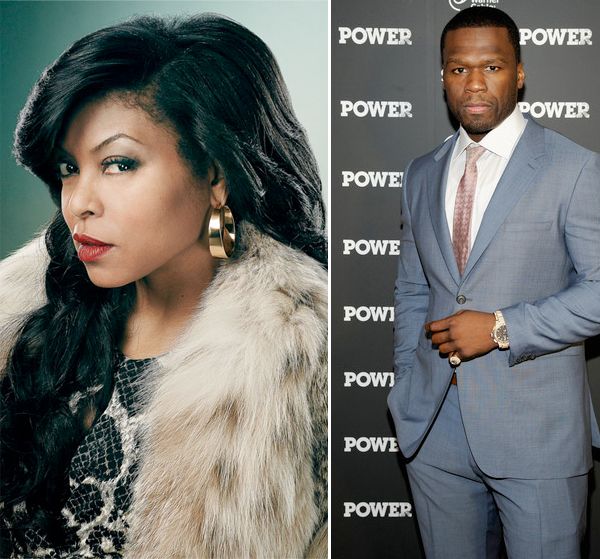 Don't come for Taraji P. Henson unless she sends for you! After shading the upcoming "Empire" series on his Instagram, Taraji is clapping back at "Power" executive producer 50 Cent. And she lets him have it! Receipts inside….
50 Cent tried it!
Lee Daniels' new drama series "Empire" premieres tomorrow tonight on FOX. And right before its debut, one of the show's leading stars is clapping back at the haters.
Taraji P. Henson, who plays Terrence Howard's character's ex-wife Cookie on the new show, isn't one to shy away from how she really feels when asked. And for her latest Twitter dust up, the 44-year-old actress has some words for 50 Cent!
A little back story....
A few weeks ago, 50 Cent (who is the executive producer of STARZ series "Power") was on one of his usual trolling sprees on Instagram. Dude must have been feeling like "Empire" would be a little tv competition because he went on an IG rant about how the FOX series jacked marketing strategies and promotional ideas from his show. He wrote,
"POWER Season 2 is unbelievably good trust me. I have the best writers and show runner. I like Terrence Howard and Taraji Henson. I don't like that they would copy the marketing."
The STARZ series co-star and executive producer then went on with more comparisons.  Using the two lead stars of the respective shows (Omari Hardwick & Terrence Howard), 50 made a picture collage of them side-by-side asking fans to pick who they liked best. Oh Fif....
Anywho, Taraji and Terrence initially ignored 50's accusations (as they should), but when a fan asked the No Good Deed star how she felt about 50's shade, she didn't hold back. She responded saying, "I pay attention to $'s NOT cents?" Bloop!
 
Peep the receipts: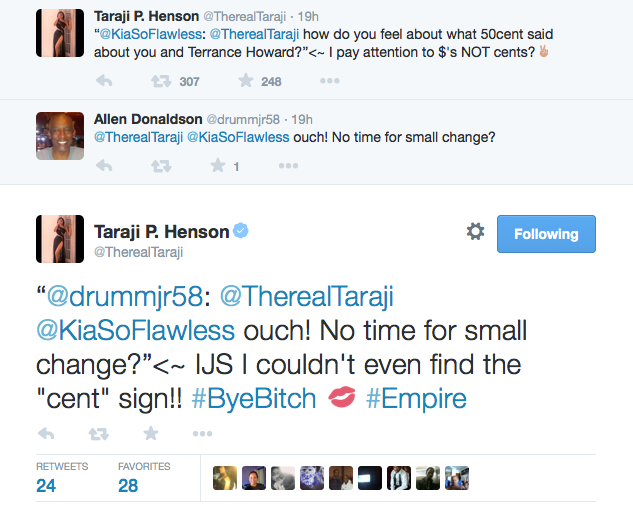 Chick went in yet again responding to another fan saying, "IJS [I'm just sayin] I couldn't even find the "cent" sign!! #ByeBitch #Empire". Ha!
Taraji is clearly not here for 50 and his shenanigans. But on the flip side, it's good promo for "Empire's" premiere episode, which airs tomorrow night at 9/8c on FOX.
Photos: FOX/Getty