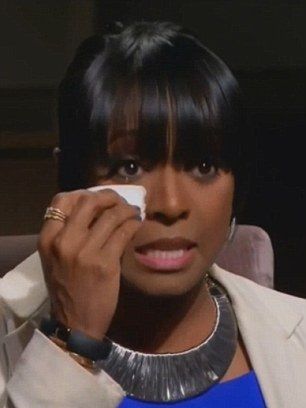 Keshia Knight Pulliam was the first celebrity fired on the season opener of "Celebrity Apprentice".  Watch the clip inside and check out a glimpse of Tyrese's birthday lap dance. 
The seventh installment of the hit series, "The Celebrity Apprentice" aired last night with former Cosby kid Keshia Knight Pulliam making a tearful exit.  As the women's team project manager, she lost to the men's team, led by Geraldo Rivera. 
In a dramatic boardroom showdown, Keshia was dragged for not raising a large amount of money during the "Pieface" charity fundraiser.  In fact, "RHOA" star Kenya Moore led the charge, questioning why Keshia didn't call her former tv dad Bill Cosby and ask for a check.  During the confrontation, Keshia tearfully revealed that she hadn't spoken to Bill Cosby in over 5 years.
FUN FACT:  Keshia was also the first celebrity kicked off the failed reality series "Splash."  It looks like she needs to avoid competition shows.
In other news...
Tyrese celebrated his 36th birthday on the set of his latest video, "Dumb Sh*t." recently.  Shot in Burbank, "Dumb Sh*t" features Snoop Dogg and appearance from Wiz Khalifa. The single drops on January 11th. It will appear on Tyrese's 10th studio album Black Rose, which has a May 5th release date.  After the shoot was over, Snoop and co. presented Tyrese with a cake and he got a few birthday lap dances. Enjoy!
Watch the clip:
Photos via Tyrese's Instagram/NBC