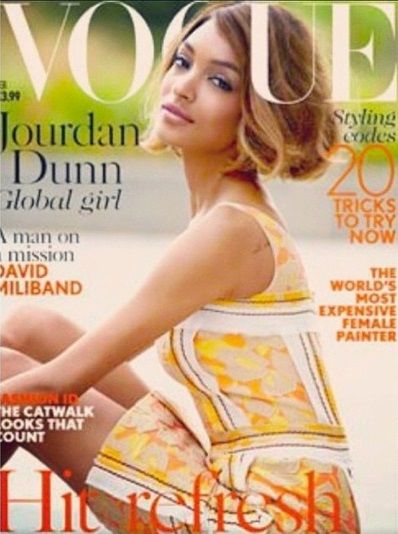 Only two days in and already, Jourdan Dunn is having the BEST year ever!  Find out why the Victoria's Secret, Burberry, and runway model's VOGUE UK cover is such a big deal inside...
British beauty Jourdan Dunn covers the February 2015 issue of VOGUE UK and it's a landmark cover.  Why?  It's a big deal to land a VOGUE cover. Period.  But Jourdan's feat carries a historical significance because she's the first Black model to land a solo cover of British Vogue in 12 years.
While we applaud VOGUE UK for placing a fierce pic of Jourdan (wearing Prada) on the cover, it's interesting to note that all of her White contemporaries Cara Delevingne, Georgia May Jagger, Kate Upton each landed covers long before she did, and Cara had two in 2014 alone!
The fashion world needs to do better.But  this is a great start.
Let's put it this way, the last time a Black model covered VOGUE UK it was Naomi Campbell (pictured above with Jourdan in a new Burberry ad). When you're tapped to follow the don diva of fashion....it's a big freaking deal!
On Instagram, Jourdan wrote "I'm so Happy to finally say I'M ON THE COVER OF BRITISH VOGUE!!! Thank you @britishvogue ,Patrick Demarchelier and Kate Phelan for making this happen and also thank you all for the Love and Support it means everything to me #2015YearOfTheDunn"
We're paying special attention to the words of Naomi, Bethann Hardison and Iman who've already called out the fashion world SEVERAL times.  We hope change is a-comin'......
Photo via Jourdan Dunn's Twitter