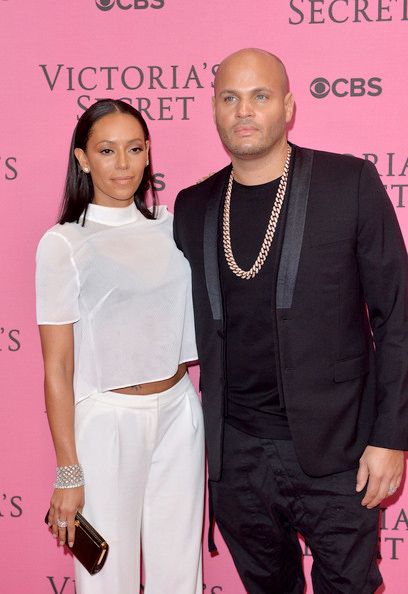 Rumors are circulating that Mel B and her husband Stephen Belafonte may have called it quits. And to add fuel to the fire, Mel B's mother blasted Stephen on Twitter for being abusive, following Stephen's denial that he abuses his wife. Deets inside….
This time of year couples are usually spending more time together and make holiday memories. But for one couple, it seems things are falling apart.
Rumors are circulating that former Spice Girl and "X Factor" judge Mel B and her husband Stephen Belafonte may be calling it quits soon. It's reported she postponed her eye surgery procedure (she recently revealed she has been blind in one eye) as she tries to sort out a possible divorce from her film producer husband.
Sources close to Mel reveal she may really be done with her husband of 7 years. The source told the Daily Mirror,
"At the moment she is discussing divorce. She knows this isn't the easiest option. It's going to be tough. But she knows her marriage is over."
 
Last week, fans grew concerned over Mel B's appearance on the "X Factor", once she appeared on the show after missing the first live show on Dec. 13th. Following a hospital stay, the 39-year-old singer returned to the show on Dec. 14th and she had bruises on her face, a bruise on her cheek and scratches on her arms. A source close to the "X Factor" show revealed Stephen didn't even come to visit her during her three-day hospital stint.
The source told The Sun,
"Mel hasn't spoken to Stephen once since her admission to hospital last week and as it stands she doesn't want to see him. He didn't come to the hospital at all. The fact that he left the country before she'd even gone back on X Factor is another sign of just how bad things have become between them."
Fans instantly accused Stephen of abusing her, but he vehemently denied it, hopping on Twitter to refute the rumors. Now...Mel B's estranged mother Andrea Brown is joining in on the abuse allegations. She first praised the fact that her son-in-law may be out of her life for good, then she sent a tweet that alludes he may be abusing her daughter. She tweeted:
Damn...this is getting messy....
EXTRAS:
1. 28-year-old Ismaaiyl Brinsley reportedly ambushed two NYPD cops in Brooklyn while they were sitting in their police cruiser yesterday, shooting them "execution style" killing them both. He later turned the gun on himself. The officers who were killed have been revealed. STORY
Photos: Getty