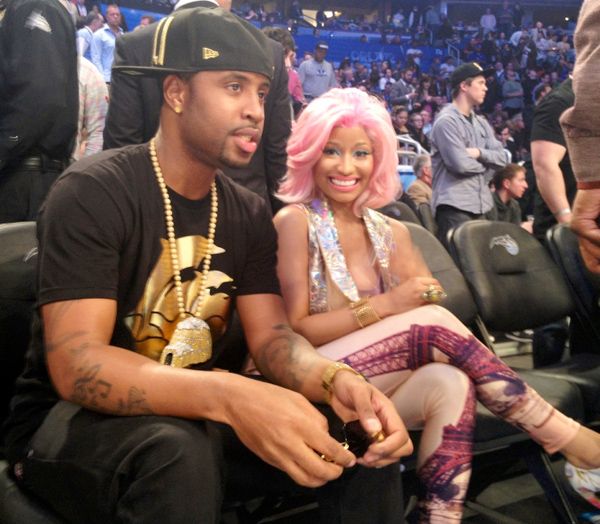 Nicki Minaj and her ex-beau Safaree "SB" Samuels were spilling relationship tip on Twitter last night. More inside….
This break-up between Nicki Minaj and her ex-boyfriend Safaree "SB" Samuels just took a turn…for the worst. Anytime indirect (or direct) conversations happen on Twitter, they normally end badly.
Well…that's sort of what happened with Nicki & SB. The twosome engaged in an indirect Twitter exchange last night. And it came with a little insight on what their 10-year relationship was like.
It seems Nicki isn't really over Safaree and Safaree isn't over Nicki. Earlier this week, the Head Barb was making her media rounds to promote her new album The Pinkprint. During an interview with Angie Martinez on Power 105, Nicki broke down in tears while talking about her boyfriend of 10-years SB. She also hinted that his thirst for "fame" was one of the primary reasons they broke up.
Then it was reported that SB was having suicidal thoughts after his break-up with the "Anaconda" raptress.
Now the two are airing out their dirty laundry on Twitter. Nicki claims SB is trying to blackmail her and is still hinting at their break-up being cause by fame. Peep her tweets (read from the bottom up):
Safaree responded to Nicki indirectly but it was clear who he was talking to. He said he has no idea what she's talking about when she says he's trying to blackmail her. He also said, he wished she would have just called him instead of putting her thoughts on Twitter. Check his tweets (read from the bottom up):
SB hopped on the phone with her moms! Love makes you do some crazy things....doesn't it?
In case you missed, check out Nicki's new short film where she raps about their break-up and accuses Safaree of cheating. Click HERE.
Photos: Splash