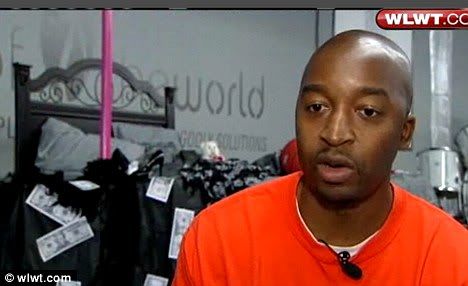 If you're one of our Ohio readers, you can make your way down to Pastor Mike Scruggs' church for a new take on "the word."  He takes a more "modern" approach to his sermons which often covers sex, drugs, and other worldly issues. Most recently, he put a stripper pole in the pulpit.....for his series of sermons called "Battle Of The Sexes." Deets inside....
Church is anything but boring at the Light of Word Ministries in White Oak, Ohio.  Pastor Mike Scruggs is on a mission to save "marriage"  so he put a stripper pole (as well as a bed) in the pulpit for his series of sermons on marriage called "Battle Of The Sexes."  And guess what....he had a packed house!
Pastor Scruggs also scattered dollar bills, lacy lingerie and killer high heels at the base of the neon pink pole.  On the opposite end of what men want, he had a stage for candy, roses, teddy bears, and a bottle of wine (for what women want).  
Scruggs defends his teaching saying:
"We talk about sex. We talk about drugs. We talk about faith. We talk about relationships ... , things that people are dealing with on a day-to-day basis.

On one side [we'll have] what men want or desire: your stripper pole, your video games, your sports.  The woman's side [is] orderly, neat. It's all about love, candy, teddy bears, roses and being wined and dined and cherished."
No word yet on how many marriages (or souls) were saved.
Watch the piece about the church below:
Gotta love 'The Church'....
(If you can't see video, check it out at the source--WLWT News.)