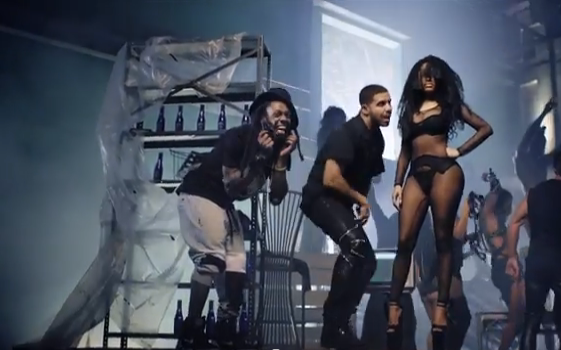 Nicki Minaj and her sheer onesie just dropped the video for her single "Only" ft. Drake, Chris Brown and Lil Wayne. Plus, Beyonce just released an 11-minute mini-documentary to celebrate the one year anniversary of her self-titled album.  We've got it all inside...
Nicki Minaj is full-promo-speed ahead as she gears up for the December 15th release of The Pink Print.  She just released the "Only" video that you've already seen the scantily clad pics from.
The Head Boob Barb In Charge is rocking her sheer one piece, feather vests, 10 inch heels, and her Myx Moscato all through the video...since you've gotta have that product placement.
Her Young Money fam Weezy and Drizzy were there to do their part, which is drool all over their labelmate's T&A while rapping a few bars.  And Chris Brown donned scary contacts and a grill for his part.  Check it all below:
Meanwhile, Nicki's "Feelin' Myself" collabo partner Beyonce has her own big release today.  Mrs. Carter dropped a retrospective short film celebrating the one-year anniversary of her self-titled visual album, BEYONCÉ. 
It's called "Yours And Mine" and Beyoncé is walking us through the hardships and the wonders of fame and love.  She revealed int he video that she wishes she could simply walk down the streets carrying a guitar and do normal things....but fame prevents that.  In the next breathe, she says her mother taught her to never be a victim and never rely on others to do what she can do for herself.  *Snaps*
She unveils, "You can't put your finger on who I am.  I can't put my finger on who I am."  Other highlights:
On marriage: "People feel like they lose something when they get married.  But, it doesn't have to be that way.  There's nothing more exciting about having a witness to your life."
On feminism: "I always considered myself a feminist, although, I was always afraid of that word because people put so much on it.  When, honestly, it's very simple.  It's just a person who believes in equality of men and women."
On sexualization of her body: "We do not value ourselves enough.  Especially young people don't really appreciate how brilliant our bodies are.  I've always been very specific and very choosy, very choosy, about what I do with my body and who I want to share that with."

Check out the revealing mini-doc below to get to know the Queen Bey just a little bit more:
EXTRAS:
1  Ashanti's stalker cut up in court this week by representing himself and attempting to be a comedian.  STORY