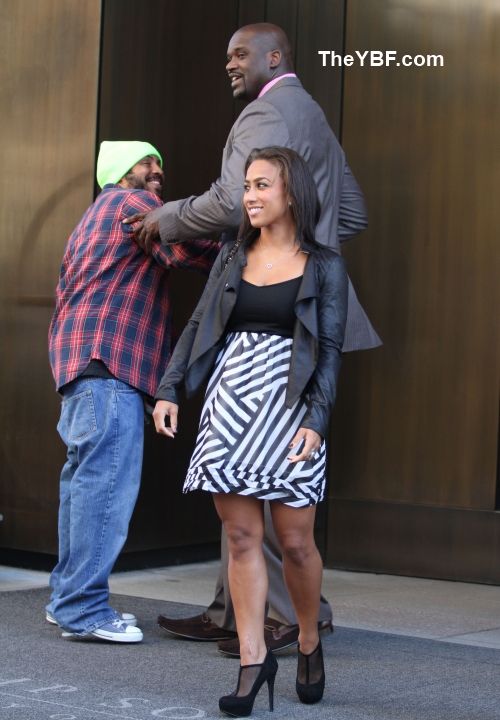 Shaq and Hoopz were spotted leaving the Trump Soho hotel in NYC yesterday afternoon.  We guess all really is well with those two.  Pics inside and deets on the new NBA team Shaq wants to develop...
Just days after Shaq went on Sway's Shade 45 Morning Show and cleared up rumors that he and his former reality star girlfriend had broken up, the two were spotted out and about (and joking around with director Hype Williams):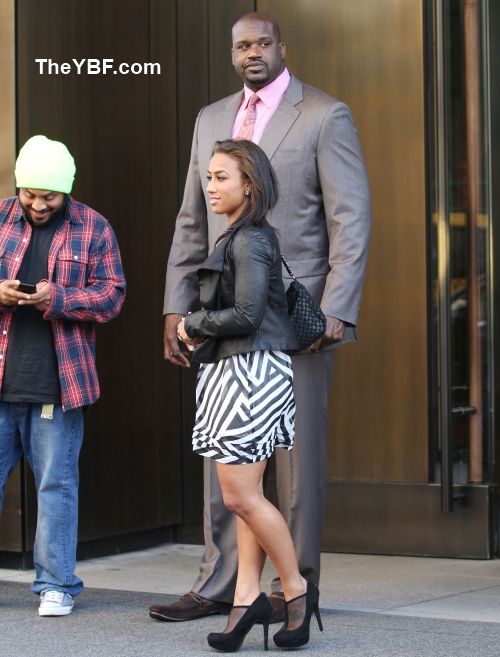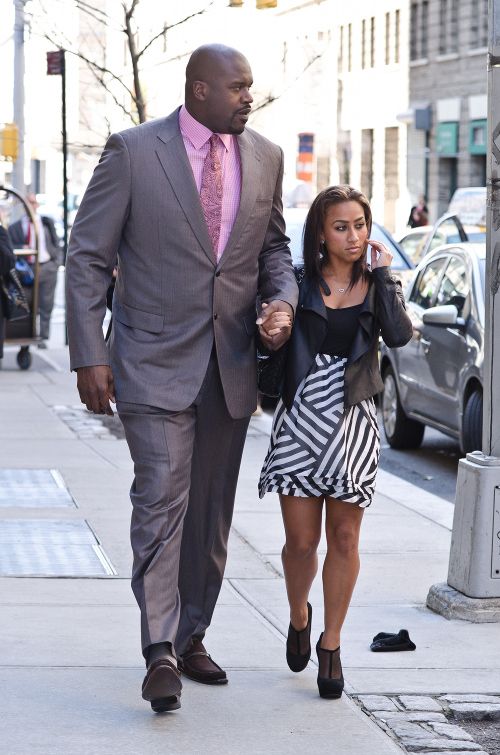 Shaq has been making his rounds around the New York area this week.  The former NBA star and current NBA analyst is in talks to develop a new professional basketball team to bring to his hometown of Newark...now that the Nets are headed to Brooklyn.
At an appearance at the Newark Boys & Girls Club yesterday, Shaquille revealed he's still working doing something similar to billionaire (and former Nets owner) Ray Chambers, who brought the team he co-owns, the Devils, to Newark:
"Yes, still working on it, still having conversations and still doing certain things to help beautify this city," O'Neal said. "When the time is right, we'll have a party. I don't want to say things that are out of pretext or context. There's things going on, we're working on it, trust me. We're working on it every day."
And about his role in the team:
"It would be as an owner, possible general manager, possibly introducing some people to some people," O'Neal said. "A couple of years ago I tried to help the marriage of the Nets to the Newark arena when I just made the statement, 'How come the Nets are not playing in this arena?' It was too late. But if I had been in those conversations earlier, hopefully the Nets would still be playing (in Newark)."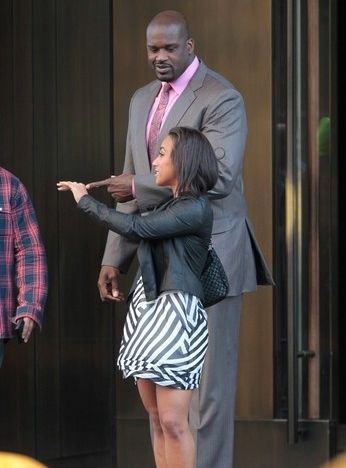 In the meantime, seems like he's keeping his relationship afloat...
BONUS: Shaq recently chatted up GQ magazine and dropped some funny tidbits about who in the league fits which Greek criteria:
GQ: You are a member of Omega Psi Phi Fraternity, Inc., which is one of the hardest fraternities to pledge in. Do you think Dwight would be tough enough to make it through the pledging process?
Shaq: No. Dwight is a Kappa. Dwight is a pretty boy, smooth. No way.

GQ: What about Chris Bosh?
Shaq: Fuck no! He's an Alpha, all the way.

GQ: Derrick Rose?
Shaq: Yeah.

GQ: Kobe Bryant.
Shaq: Yeah, fuck yeah.
So so true...
Pics via WENN/SPLASH