Apollo Nida is speaking out from jail…once again. And this time he's making it known he will be battling it out in divorce court with his estranged wife Phaedra Parks. Find out what he said about refusing to away from their marriage empty-handed and check out a footage of Diddy that kinda foreshadowed the Drake fight inside…..
Apollo Nida is talking from behind bars…again. For his second interview since starting an 8-year sentence on fraud and other charges, the former "Real Housewives of Atlanta" husband is reacting to his estranged wife Phaedra Parks going through with their divorce.
Apollo isn't feeling it. You'll recall, he was hopeful they could work through their issues and eventually reunite as a family. He thought they had a chance since (at that particular time) Phaedra hadn't officially filed for divorce.
Well…someone from Phaedra's camp relayed the message that "the divorce is proceeding as planned," and now Apollo is airing out his frustrations in a new In Touch interview. He told the publication he is not walking away from this divorce with nothing!
He spilled,
"I will not walk away empty-handed, considering all I've put into the marriage over the five years. That is completely fair, I think. It wouldn't be right for her to just take everything and leave me with nothing to come home to."
Oh…we're sure Phaedra would say something along the lines of…"were you thinking about that while participating in the criminal act?"
Apollo also feels it's WRONG to keep his two young sons away from him for 8 years, despite him being in jail. He says he hasn't seen 4-year-old Ayden and 19-month-old Dylan since he's been in the pen. He said,
"I can't see why she would continue to hurt me by not allowing me to see my boys," Apollo tells 'In Touch,' while serving his time at the Federal Medical Center in Lexington, Kentucky.

"This isn't right. If I don't see my children for eight years, that would be some bulls---, and I would fight for that right! Who in their right mind would allow children to be away from their father for eight years, regardless of where the father is at in the world?"
 
Messy.....
In rap beef news....
Following the alleged physical altercation between Diddy ad Drake, a video from months ago has surfaced of Diddy alluding Drake stole his track while performing at a nightclub in Miami.
A little back story….Diddy and Drake allegedly came to blows outside of Liv at the Fontainebleau Hotel in Miami during DJ Khaled's birthday party. Sources on the ground claim the physical altercation stemmed from a "musical" misunderstanding.
The source said, "Drake and Diddy got into it outside the club. They were arguing over the rights to a song, and got into a physical fight. Diddy claimed that Drake was using music without the proper rights."
And it seems the song in question is "0-100", which has landed Drake two 2015 GRAMMY nominations. Diddy claims he had the beat first and got upset when Drake released it, unbeknownst to him.
 
Now TMZ has footage of Diddy implying that Drake "stole" the beat during a performance at Story Nightclub this past June. Hmph..seems this beef has been building up for a bit. In the video, Puff calls the "person" who stole the beat a thief and then drops the track. Check it above.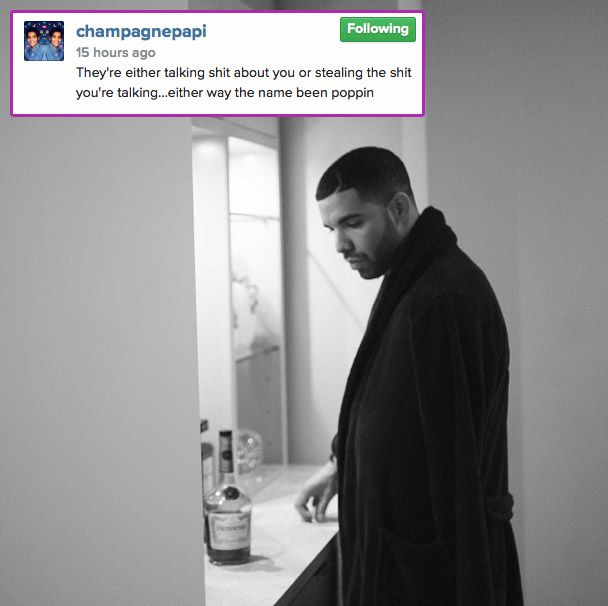 Drake semi-addressed the situation on Instagram saying, "They're either talking sh*t about you or stealing the sh*t your're talking....either way the name been poppin"
These two....
Photo/Video: BRAVO/TMZ