Uh oh!  Not everybody is feeling K. Michelle's booty-ful new pictures from her Anybody Wanna By A Heart album booklet.  She revealed a new pic today that has the internets in a tizzy...but there's a model who's screaming THIEF!  Find out why inside....
While K.Michelle s out about about doing promo for her brand new AWBAH album today, a model named Lady Tatyana is going IN on her about stealing her photoshoot idea.  Nope, K.Michelle wasn't the only person in the world with the idea to stick roses in her ass and call it art. 
Once K showed off pics from her album booklet this AM, a model named Lady Tatyana started going in and accusing K. of stealing her and her photographer's ideas!  And yes, she gave picture proof and is searching for legal ground to do something about the alleged idea theft: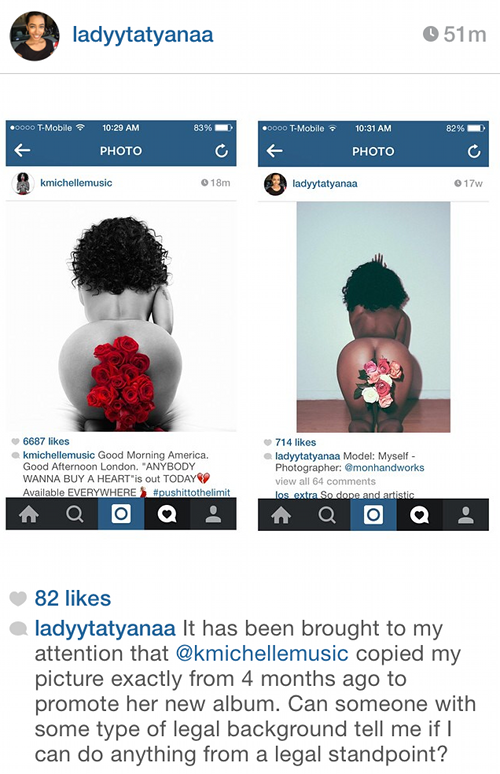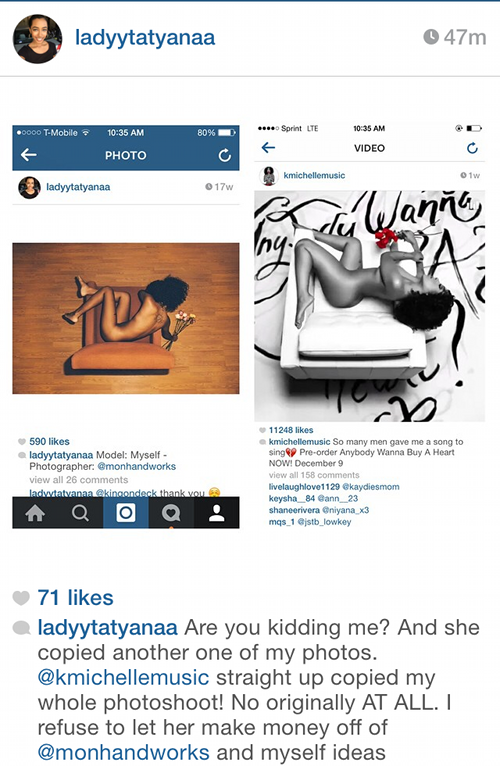 And after @'ing K. a few times, K. blocked her minutes later:
We have a feeling we haven't heard the last of Lady Tatyana.  But what are your thoughts?  Is it possible K. simply saw the image floating around her Instagram feed with no knowledge as to who the originator was?  Should she have sought harder to find out?
We reached out to K. Michelle's label for comment.
Hmmm...
Photos: @Ladyytatyanaa/@kmichellemusic