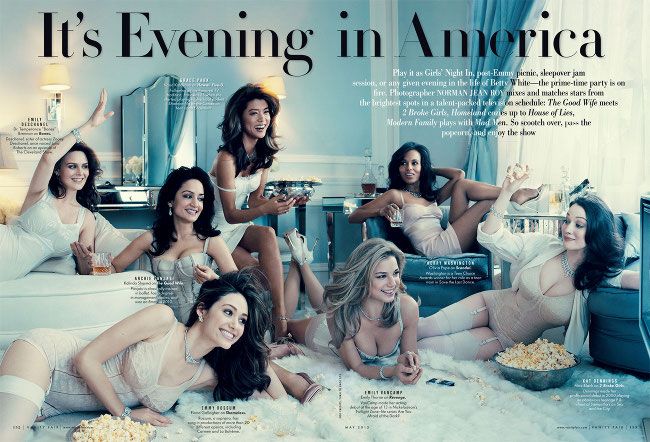 The big TV feature in Vanity Fair's May 2012 issue just hit the net.  And one YBF chick (you know there's only 1 if one at all) made the big spread.  "Scandal" actress Kerry Washington.
Pics inside...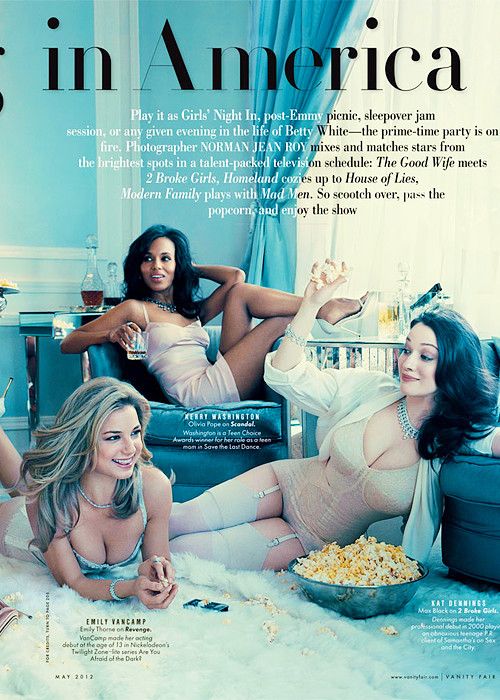 Kerry Washington is lounging it up alongside actresses Emily Vancamp ("Revenge"), Kat Dennings ("2 Broke Girls"), Emily Rossum ("Shameless") and plenty more of the leading ladies of TV.  While "Modern Family" star Sophia Vegara nabbed the cover amongst "The Good Wife" leading lady Julianna Margulies, "Homeland" star Claire Danes & "Downtown Abbey" star Michelle Dockery: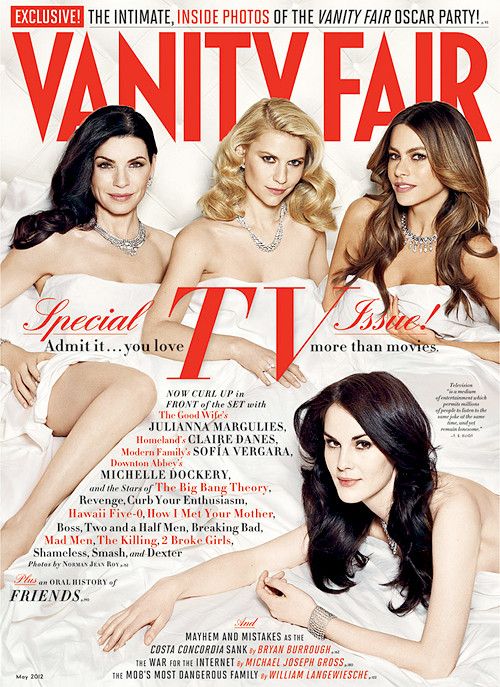 Kerry recently chatted with BET about her upcoming role for the series written by the mega-talented Shonda Rhimes (who already has "Grey's Anatomy" & "Private Practice" under her belt).  And by the way, Kerry's hardcore Ms. Fix It role as the crisis management expert (fixing Presidential political & sex scandals and more) is based on a real-life black female crisis manager named Judy Smith.
Kerry revealed, "Judy Smith never had a complicated relationship with the President of the United States, but I'm lucky that Judy is a producer on the show because she's very hands-on and around a lot, and I worked with her on the character."

"Shonda writes real people, people who are three-dimensional, fully realized human beings, and that is a joy for any actor, because so often we are having to create the three‑dimensionality of a character and when it's given to you, it's such a treat. I really love playing a complicated woman. But I am always looking for the good in the character."
And about being the star of the show:
"This is very much an ensemble too, but I feel like it's my first time at the rodeo, and everything's really new and different and exciting and I like that too as an actor to be in a new situation. I feel like every day I come to work on this show is like a master class. Our biggest hope and dream for the show is that people will have as much fun watching it as we're having making it because it's the dream job."
Columbus Short also stars in the series which kicks off this Thursday (April 5) on ABC at 10p ET.