Oh yes...we've been all about those dreamy eyes since he threw Eve up against that sink in a rather sexy moment in Barbershop.  Now, the "Common Law" actor (Underworld: Awakening, Takers) Michael Ealy is gearing up for his starring role in the romantic comedy Think Like A Man.  And he's dishing up dating advice...like not listening to "dumb ass friends"...
Despite playing one of the leading roles as 'Dominic' (The Dreamer) in the upcoming dating games flick Think Like A Man, hottie Mr. Ealy thinks women should do anything but.  (Thank ya Jesus!)  Michael chatted up HuffPost Black Voices about what women should do inrelationships, why the movie shows how games never win, and past dating experiences:
Did you incorporate any past dating experiences into the role?

I definitely paid homage to a few people that I dated in my past who I've met and felt like, "Okay, you're a dreamer, you just don't have the execution right now." There's something very beautiful and compelling about someone who has ambition and someone who knows what they want, but it can get a little frustrating at times, so I understand that. I have sympathy for that. And so I tried to play him accordingly, I tried to give him a little bit of vulnerability and a dreamer's sensibility. He's just one of the boys. He's not a standout guy, so he listens to his boys for all kinds of bad advice. But don't we all? [Laughs]

In your opinion do you think more women should think like men?

Not really. I think women should have insight as to how men think. Just like men should have insight into how women think. One of the things that this movie does is, everybody looks at the dating game as just that: a game. But with this movie we bring you through that with the gamesmanship and "I'm doing this and you're doing that," and all of that chess-playing back and forth. But what brings this movie home in the end is the fact that everyone feels a sense of connection with the other person, which surmounts the gamesmanship. And everybody is able to put the games away and be themselves and that's where they find the true connection.

With the movie being based on a relationship book, have you sought out any books in the past to help step your game up?

No, I wasn't smart enough to read relationship books when I was coming up. I learned everything the hard way. And I, like Dominic, would listen to my dumb-ass friends. At a certain point you're like, "I got this, thank you!"
Check out his full interview over at HuffPost Black Voices.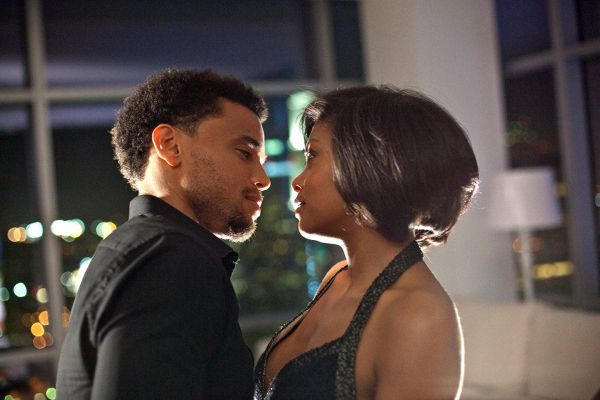 Think Like A Man hits theaters April 20th.  Who's copping tix?