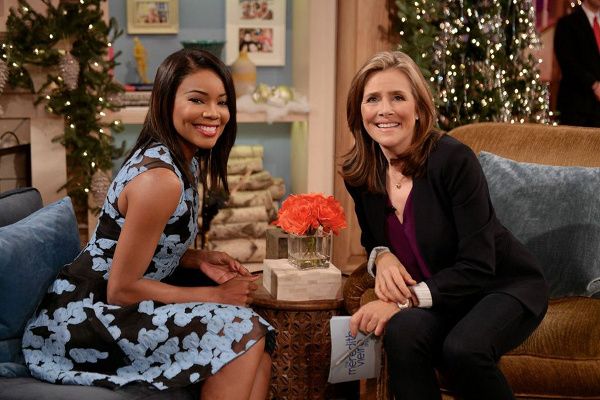 Gabrielle Union is speaking out on the hurt she suffered after falling victim to the celebrity nude photo hacking scandal while visiting The Meredith Viera Show today.  Meanwhile, the Annie cast appeared on "Good Morning America" this AM and Naomie Harris was all smiles at the new James Bond movie announcement. More inside….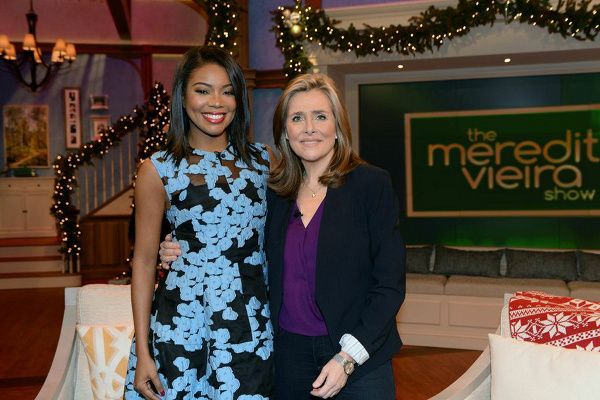 Gabrielle Union is still making her media rounds to promote her upcoming film Top Five (which hits theaters next Friday, Dec. 12th). And today, she stopped by "The Meredith Vieira Show" to address (once again) the celebrity iCloud hacking scandal, which resulted in nude photos (meant for her husband Dwyane Wade) of her shared across the Internet.
Last month, Gabby penned an open and very candid essay for Cosmopolitan magazine, expressing how she was plagued by the scandal during what was suppose to be one of the happiest times of her life…her honeymoon. And now, she's opening up about standing up for herself since it appears no one else will.
In today's interview with Meredith, Gabby talked about feeling disheartened that no feminist groups stood in solidarity against the many women who were victims to the hacking scandal. She also talked about how the public never really feels sorry for celebrities ("That we must have done something.") and that the pain she feels over no one else caring never goes away.
In spite of everything, Gabby said:
"I'll speak up if no one else is going to. In the same way you have to speak up and speak out for any injustice that happens. The second you're silent, the second people think you agree with it."
Peep the highlights below:
Meredith: Right when you were heading out to your honeymoon the rumors resurfaced about pictures of you that were going to circulate around the Internet, private photos, and it turned out to be true. You actually wrote an essay about your experience in Cosmo magazine and it was a great essay about how you felt it was sexual abuse and a crime, and in the essay you ask, 'I also want to know where are all the women's groups, the feminist demanding justice in this case? The silence was deafening.' And I noticed the same thing. Why do you think that was? A lot of photos of famous women.

Garbrielle: Over a 100, just the sheer number of female victims, should have elicited a much greater response, certainly from feminist groups. The Silence was deafening and I didn't understand. The more I thought about it, the more I realized people think A. we like abuse as women and as celebrity women, that we had it coming. That we must have done something. Victim shaming was very prevalent in this case. We don't make great victims. People don't feel sorry for celebrities.

Meredith: Or they'd say why did you take the picture in the first place.

Gabrielle: Yeah, for myself. If it's on my phone, think of everything you have on your phone, the reality is it's fair game for hackers, for criminals. Anything you have, your most private moments, photos of ur children, innocent photos of your children in the bathtub in the hands of the wrong people. So for a lot of underage female celebrities it's child pornography but it didn't get the kind of response that a crime, a wide spread crime should have been gotten. I think it's interesting there is so much outrage movies have been stolen from Sony, but what about our bodies, that have been stolen from us that did not get the same amount of widespread, 'I can't believe it.' It was disheartening.
Meredith: Long after they stopped talking about your photos you live with that because you have a family, so that never goes away.

Gabrielle: Yeah, that never goes away and the pain of no one else caring never goes away too.

Meredith: What do you then take away from all of this then Gabby?

Gabrielle: That I have to care enough about myself and be my own best advocate and I'll speak up if no one else is going to. In the same way you have to speak up and speak out for any injustice that happens. The second you're silent, the second people think you agree with it.
Props to her.
Check it:
Check your local listings to catch Gabby's full interview on the "Meredith Vieira Show".
On television this morning....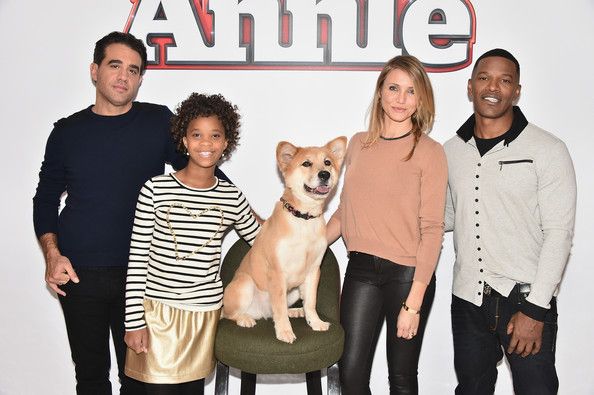 We're just 14 days away from the release of the highly anticipated film Annie. And today, the lead stars in the upcoming holiday flick stopped by "Good Morning America" to chop it up with co-host Robin Roberts about all the fun they had on the set.
YBF star Quvenzhané Wallis (who's gracing the cover of T magazine's holiday issue), Jamie Foxx and Cameron Diaz have been super busy traveling the nation, making stops at different elementary schools producing their very own school-production of the family film. The three have surprised and guided many eager students, offering up acting tips before they hit the silver screen with the readaptation of the classic film.
 
And to melt our hearts: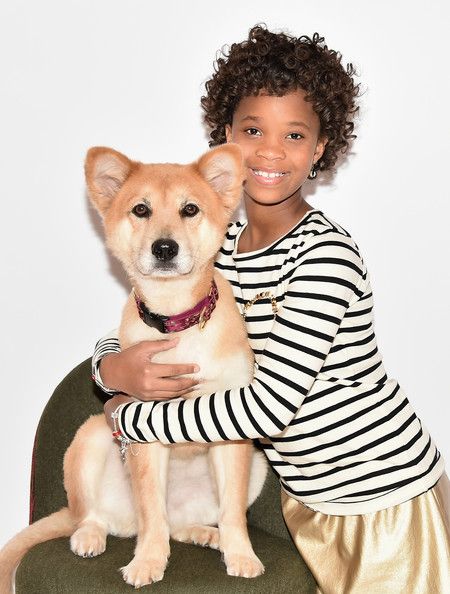 Cutie Q (starring as Annie) posed for some super cute photos as she played around with her pet in the film "Sandy" in a gold skirt, stripped shirt and her curls. Too cute.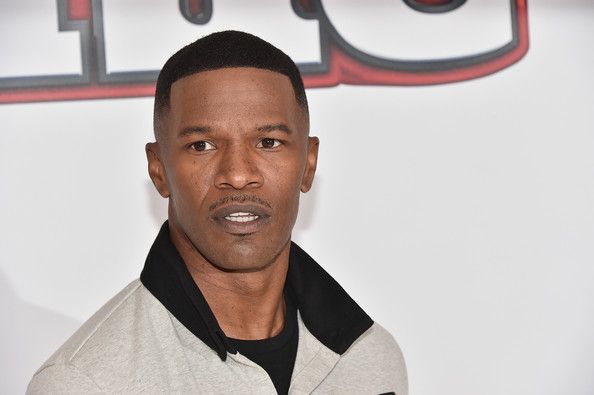 Jamie will star as Will Stacks, an updated version of the character Daddy Warbucks. We're sure he'll bring plenty of laughs.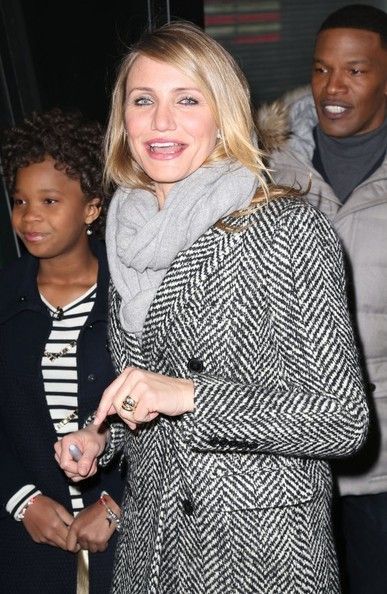 And Cameron Diaz will recreate the evil Ms. Hannigan. Annie hits theaters Dec. 19th. Can't wait!
Peep their interview below:
And across the pond....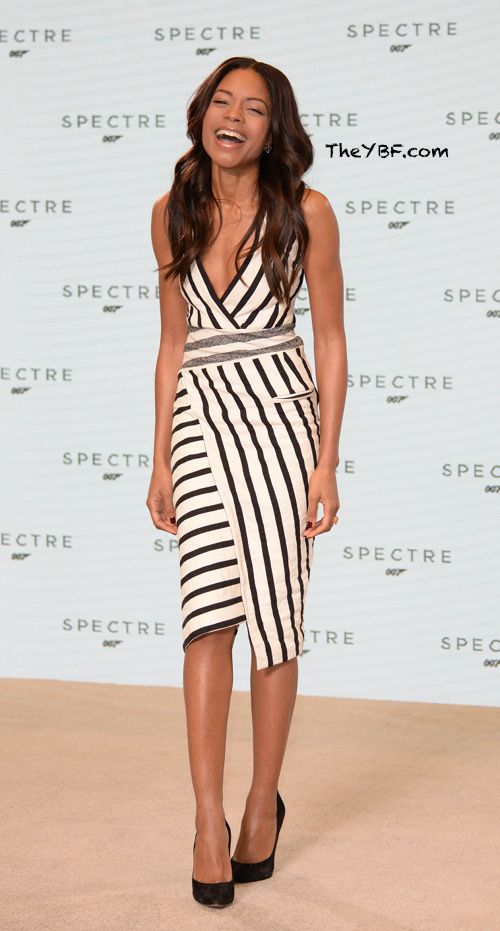 The fab Naomie Harris has been glamming it up on the scene lately. And yesterday, she kept it cute in a striped Altuzarra 'Jessica' dress from the Spring 2015 collection at Pinewood Studios in Buckinghamshire, England to announce the 24th James Bond film titled Spectre.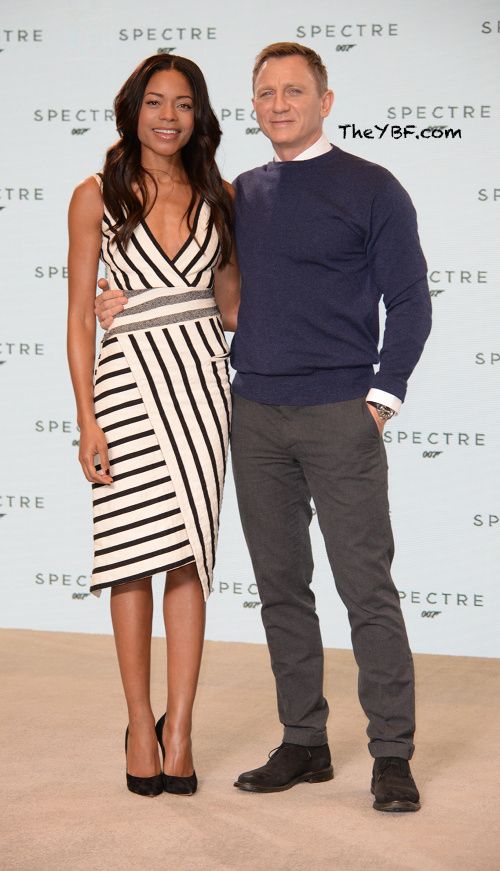 The Skyfall actress will be returning as "Moneypenny" in the new film alongside her SEXY Skyfall castmate Daniel Craig as he reprises his role as James Bond in the upcoming action flick. And get this....
Built for Bond: Another look at the stunning Aston Martin DB10, unveiled today as the new car for @007 in #SPECTREpic.twitter.com/V5laAC9Pct

— Aston Martin (@astonmartin) December 4, 2014
Bond's new car will be a super luxe Aston Martin DB10. Nice!
Below is a short synopsis of the film:
'A cryptic message from Bond's past sends him on a trail to uncover a sinister organization. While M battles political forces to keep the secret service alive, Bond peels back the layers of deceit to reveal the terrible truth behind SPECTRE.'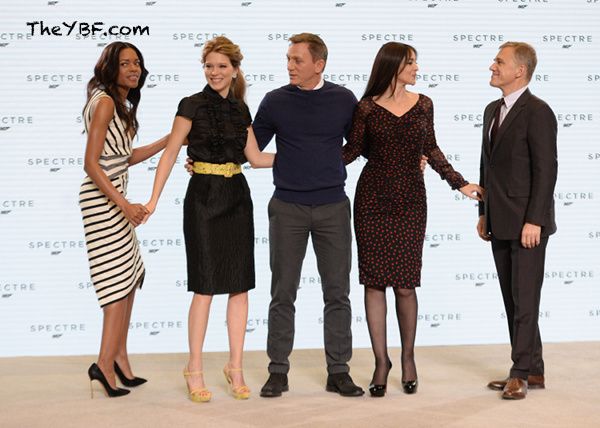 Before the night was over, the British beauty also snapped it up with French actress Lea Seydoux, Daniel Craig, Italian actress Monica Bellucci and Austrian actor Christoph Waltz.
We can expect Spectre to hit theaters in the U.S. on November 6th, 2015. We're so here for it.  Congrats Naomie!
Photos: Splash News