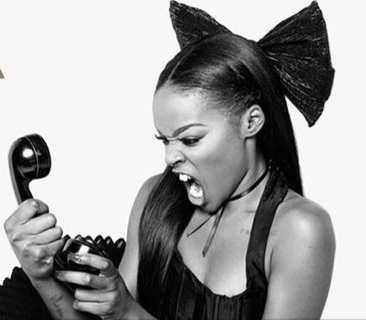 Oh that Azealia Banks.  Some may call her crazy, but chick often nails a READ when it's totally warranted.  And when others are too scared to speak up.  Check out her latest words for the reigning "Queen of Hip Hop" Iggy Azalea (you know, what mainstream folks have crowned her) about her profound silence on the major police brutality issues affecting the black community and beyond...
Rapper Azealia Banks is never one to hold her tongue--whether she's got an album to promote or not.  The Broke With Expensive Taste raptress went all the way in last night expressing her frustration with those who musically profit off the black community and hip hop culture, but who seemingly have no interest in the very real issues affecting those same communities.
Since Iggy Azalea has proudly accepted her crown as the Queen of Hip Hop (don't get us started), the "Fancy" chick shouldn't be surprised when people call her to task to actual DO something with that title.  You know, since the true essence of hip hop is vocalizing the fight against oppressors of any form (in case Iggy was unaware that hip hop extends past booty shots, a "rap voice" and raunchy lyrics).
Her nemesis Azaleia Banks took to Twitter last night to go clean off about the lack of interest or action Iggy seems to be taking in everything going on in Ferguson, Staten Island and beyond.  So while celebs and everyday people were taking it to the streets and social media expressing themselves about the Grand Jury decisions in the Michael Brown & Eric Garner cases, Azealia wrote:

She continued: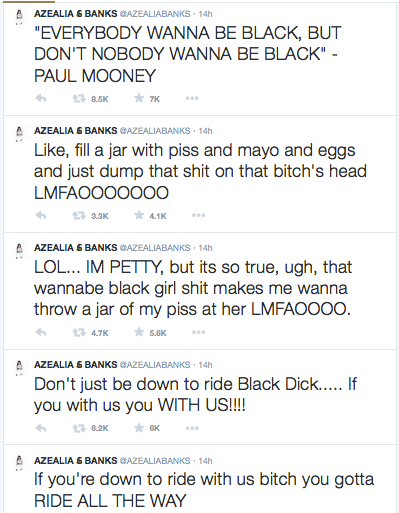 Whoa.  And there's more: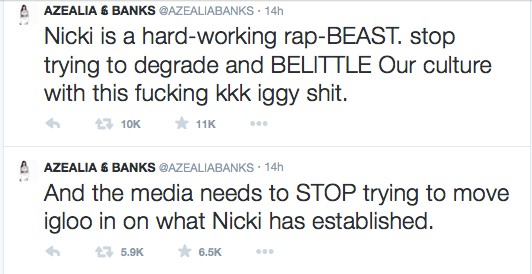 And she brought up Iggy's previous slave master line (and visual) again: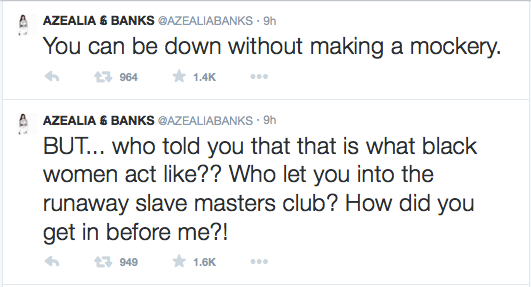 And she didn't forget Iggy's captain-save-a-homie, T.I.:
WHOA.
It was only a matter of time before Iggy attempted to defend herself.  She tweeted about Azealia simply trying to get attention: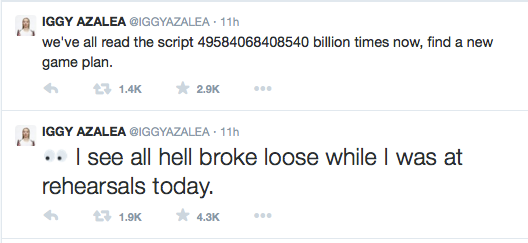 And then she popped off about people putting too much emphasis on what's said on Twitter.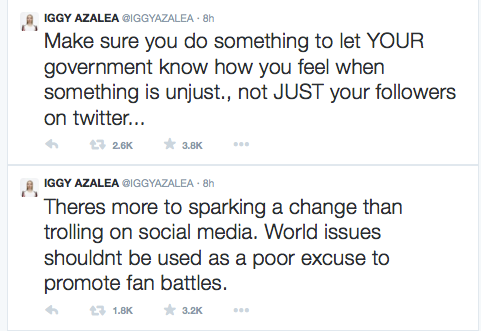 But we're not feeling when folks put ALL the emphasis on social media when they're trying to sell a product or themselves, but then trivialize the very vehicle that put them where they are when it's time to use the vehicle for something bigger than themselves.
Iggy made not the best choice of words with her following tweet:

Oh?  Plenty of folks took this to mean injustices the black community faces don't have anything to do with her. And she's more concerned with her tour. And then she flat out said the racist justice system -- against the very community she appropriates -- has nothing to do with her:


It doesn't? Interesting.
Iggy then decided to offer something to the discussion anyway, and then blamed others for not retweeting her suggestions enough: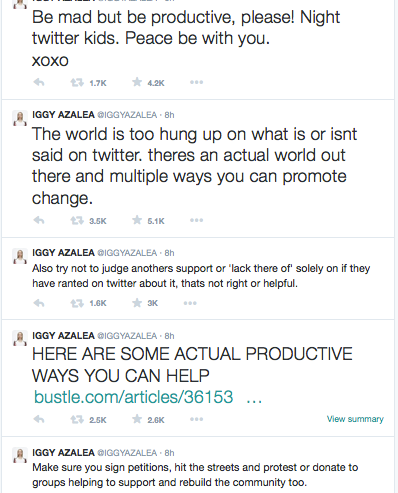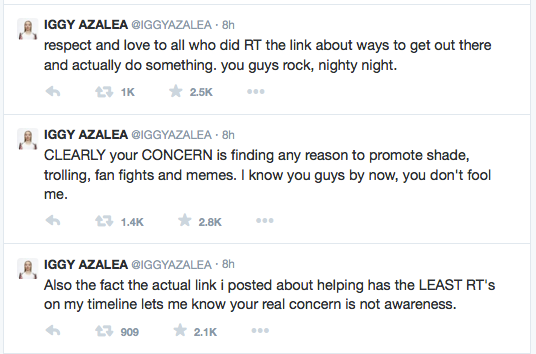 Note to Iggy: Social issues will almost always get less retweets than pics of you in booty shorts or with your NBA baller boyfriend Nick Young.  It doesn't mean the social issues shouldn't still be addressed.
Photos: Azealia's Twitter/Iggy's Twitter/Getty