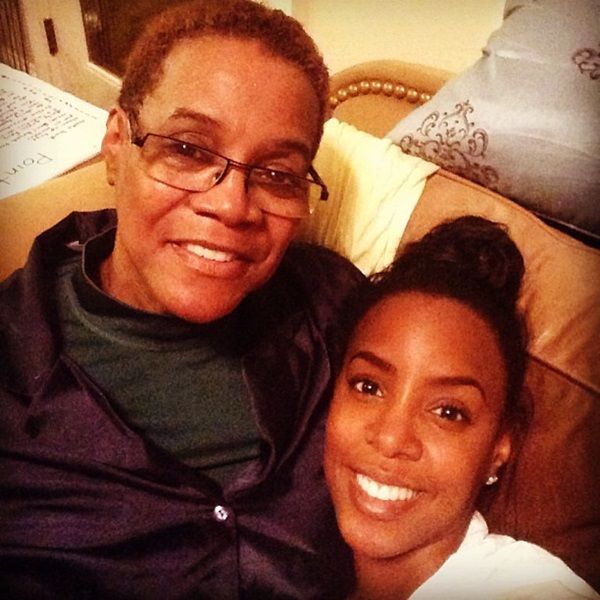 It has now been confirmed that Kelly Rowland just suffered the tragic loss of her mother, Doris Rowland Garrison.  Details inside...
There is more sad news today involving a tragic death of a parent. Kelly Rowland's mother, Doris Rowland Garrison, has passed away in Atlanta at the age of 66 after suffering a cardiac arrest.
The news broke last night on social media, but we decided to await a more formal and credible confirmation.
Kelly, via her publicist, gave the heartbreaking confirmation today to E! News:
"It is with deep sadness that I announce the passing of my mother, Doris Rowland Garrison. She was an incredible soul who made countless sacrifices so that I could become the woman—and now mother—I am today," Rowland said in a statement Wednesday. "We humbly appreciate all the love and support and only ask for privacy during this difficult time."
The sad news was revealed late last night, on the heels of "RHOA" star Todd Tucker's mother's death, via the Twitter account of @PoliticaDAM, who is said to be a friend of the family.  Interestingly, once fans demanded proof and scolded him for telling the world before the family could, the owner made the Twitter account private.
Foti Kaliergis, a reporter for ABC News in Houston, also tweeted out the news.  We reached out to him for proof of confirmation but our request was not returned:
@KELLYROWLAND I'm saddened to hear the news. Ms. Doris was an amazing woman. She was like a mother to me growing up. Praying for her&you.

— Foti Kallergis (@FotiKallergis) December 3, 2014
The singer's good friend and Fitness DVD partner, Jeanette Jenkins, chimed in with a telling tweet last night:
Love people while they are here.

— Jeanette Jenkins (@JeanetteJenkins) December 3, 2014
Kelly and her new husband Tim Weatherspoon just welcomed their first child, Titan Witherspoon, to the world about a month ago. Our hearts, thoughts and prayers go out to Kelly, her brother Orlando, and their loved ones at this time.
[UPDATE] Kelly's former Destiny's Child groupmate Latvia Roberson expressed her sadness amd memories with Ms Doris:
Its with sincere sadness and deepest regret to hear about the passing of Ms. Doris Rowland Garrison. I can't believe that such a wonderful person is now no longer with us. My mother and I knew her intimately throughout my childhood and teenage years, I'll always remember having the best times over our favorite "tater tots & hotdogs" meals back in Houston. Ms. Doris you will be deeply missed. Much much love and heartfelt prayers to @KellyRowland and her entire family! Rest in HIS peace Ms. Doris. My sincere condolences also to my friend @4Kwame on the passing of his father this week and also to @Todd167 & @KandiBurruss' family on the equally as untimely news of his mother's passing as well. Praying for you all.
Photo: Kelly's Instagram