The St. Louis Rams are still supporting the Hands Up, Don't Shoot movement in support of Michael Brown.  Check the pic inside, plus Janay Rice speaking to Matt Lauer (along with Ray and her parents) about initially wanting to escape the relationship....
Before the St. Louis Rams shutout the Oakland Raiders today 52-0 in Missouri, five members of the team walked out of the tunnel with their hands up.  It was an impactful show of support in front of thousands of fans of slain teen Michael Brown, his family and the protestors who are angry with the Grand Jury's decision to not prosecute former officer Darren Wilson.
We applaud them!
[UPDATE] The "business manager" of the St. Louis Police Officer Association, Jeff Roorda, is mad, y'all.  He's calling for the 5 players, Stedman Bailey, Tavon Austin, Jared Cook, Chris Givens, and Kenny Britt, who supported the "Hands Up, Don't Shoot" campaign to be fined and to issue a public apology, or else he's threatening to take it to the NFL's sponsors.  And yes, he's serious.  The long and drawn out "satement" can be summed up below:
The SLPOA is calling for the players involved to be disciplined and for the Rams and the NFL to deliver a very public apology. Roorda said he planned to speak to the NFL and the Rams to voice his organization's displeasure tomorrow. He also plans to reach out to other police organizations in St. Louis and around the country to enlist their input on what the appropriate response from law enforcement should be.

Roorda warned, "I know that there are those that will say that these players are simply exercising their First Amendment rights. Well I've got news for people who think that way, cops have first amendment rights too, and we plan to exercise ours. I'd remind the NFL and their players that it is not the violent thugs burning down buildings that buy their advertiser's products. It's cops and the good people of St. Louis and other NFL towns that do. Somebody needs to throw a flag on this play. If it's not the NFL and the Rams, then it'll be cops and their supporters."
Sir, kindly go to hell.  Because guess what WE find offensive and inflammatory -- policeman shooting and killing unarmed teens over unproven allegations of theft and walking in the street.
By the way, Deadspin dug up dirt on this guy which reads as follows:
"Roorda" is SLPOA business manager Jeff Roorda, a former cop who was fired for repeatedly lying and falsifying reports and who now pushes his anti-transparency campaign in Missouri's legislature. You can read the full statement over at KSDK.
The irony...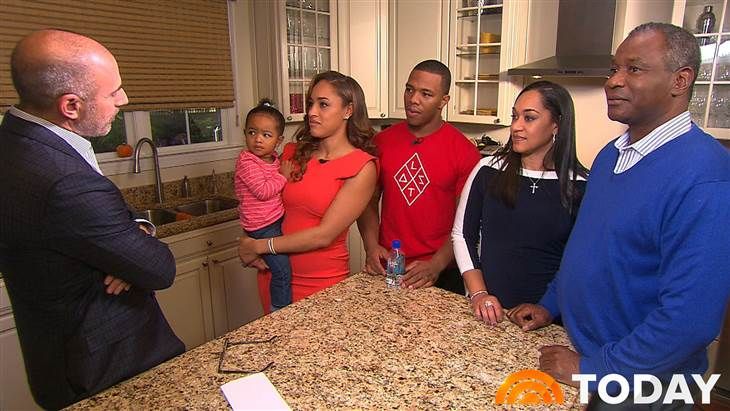 Now that her new husband Ray Rice has been reinstated in the NFL and can be picked up by any team, Janay Rice is speaking out about that infamous elevator beating at the hands of her the NFL baller.
Her interview with ESPN has already been made public.  And now, in an interview with NBC's Matt Lauer--which will air on the Today Show Monday and Tuesday--Janey Rice is giving more insight.
Folks have been asking where HER parents have been throughout this entire incident.  For this interview, Mr. & Mrs. Palmer were right by their daughter's side.  As well as Janay & Ray's daughter Rayven.
Interestingly, one of the things she revealed in this new interview is that she initially wanted to escape Ray and the relationship:
After being knocked unconscious, Janay says her first reaction was to be "done" with the relationship.

....

"I was furious,'' Janay told Lauer. "We came home and we didn't talk the entire ride. He tried to talk to me. I didn't want to hear any of it. I just knew he hit me, and I was done. I just didn't even want to entertain it. Any explanation."
Here's a video highlight where she insists Ray told the truth to Commissioner Roger Goodell about what happened in that Atlantic City elevator:
And if this all seems like a PR strategy to make her husband appear more "signable" to NFL teams, you wouldn't be alone.  Get the rest of the interview tomorrow and Tuesday on NBC.
Photos: @KHizeman's IG/Today Show