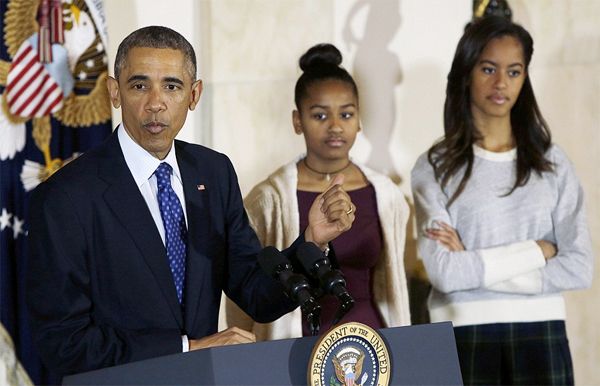 While Sasha & Malia Obama were cracking us up with their "typical teen" faces as their father, President Obama, pardoned the National Turkey last week, others took it to another level.  And it was completely disrespectful.
Get what a Director of Communications for a republican congressman had to say about our First Daughters inside...
Elizabeth Lauten tried it.  Instead of checking out the full video and spectrum of pics (like you can HERE) of the completely respectful Sasha & Malia Obama at the lighthearted  Presidential Turkey Pardoning ceremony, Elizabeth, who is the Director of Communications for Congressman Stephen Fincher (R-TN), made horrible assumptions.
Check out her PUBLIC FACEBOOK message, where she said the girls were dressed in a way and acted in a way where they were looking for a spot at a bar.  Oh, and her equally lame apology where she did not apologize to the two young women she offended:
And people wonder why we're concerened for the state of little black girls in America.  If the President & First Lady's amazing daughters are spoken of this way PUBLICLY, imagine how our young black girls who are not the President's daughters get treated by the world.
Elizabeth has had this position for almost two years (since February 2013).  She should know better than to think writing something this disrespectful about the President's children would go unnoticed.  And if she doesn't know better, she sucks at her job.  And deserves to be fired for that reason and more.
It's baffling how a grown woman -- who is a former Social Media Manager for Purple Strategies (a reputation management and strategic communications firm) -- could ever speak about children in this way.  The hate and disdain for the President (and the position of our perfectly classy First Family) is seeping out of people's pores, and it needs to be checked.
Children, esp. in the position of the First Family, are off limits.  Elizabeth was completely out of line, and we will not stand by idly without calling someone out on it. Have several seats, Elizabeth.
By the way, she responded to a person who Tweeted her about seemingly removing her title from her Facebook Page:
 

 

@MariaLiaCalvo No, no I have not.

— Elizabeth (@DCGopGirl) November 28, 2014
If you say so...
Photo: AP