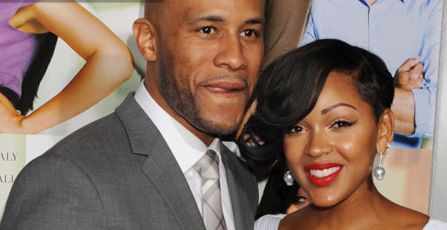 Looks like that wardrobe switcharoo from the sheer leggings and white tee girl to the sophisticated red carpet chick paid off.  30-year-old Think Like A Man actress Meagan Good is now ENGAGED!  And she's ready to ride off into the sunset with her producer (and preacher) fiance' DeVon Franklin.
Deets inside...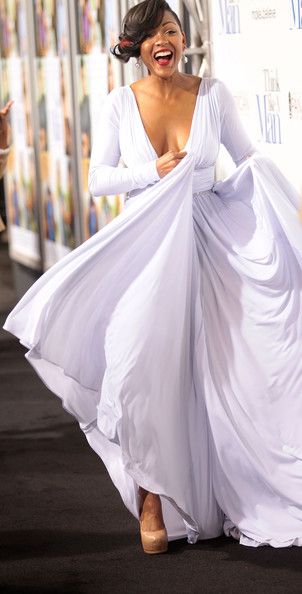 Reports confirm gorgeous actress Meagan Good is now a very taken woman.  She's been dating DeVon Franklin for several months now.  He is a Sony Pictures executive and one of the producers of TD Jakes' 2011 film Jumping The Broom--which Meagan starred in.  The two met during filming and have been attached at the hip ever since. 
DeVon, who also wrote several books based on his 7th Day Adventist preachings, was spotted out at Meagan's birthday dinner with her family last August, and was also as her date (topmost picture) to the February Think Like A Man Hollywood premiere.
Meagan, who also stars on Showtime's "Californication, is well known to be quite religious in her actual off-screen life.  So it looks like cleaning up her image to match that fact may have been jump-started by her man.
On a side note, we just caught the screening of Meagan's upcoming film Think Like A Man.  And she's not playing her usual role of a sexed up teen, vixen or video chick.  She's (mostly) the good girl this time.   Still not excessively original, but we loved it.
Congrats Meagan!