Buildings burned and some arrests were made last night as the nation comes to grips with the fallout from the grandy jury's decision in Ferguson.  While these actons did not make up the majority of the protestors--as most were peaceful--the scenes of hopelessness and anger should not be taken lightly.  Read statements from the family of Michael Brown and Atty. General Eric Holder inside...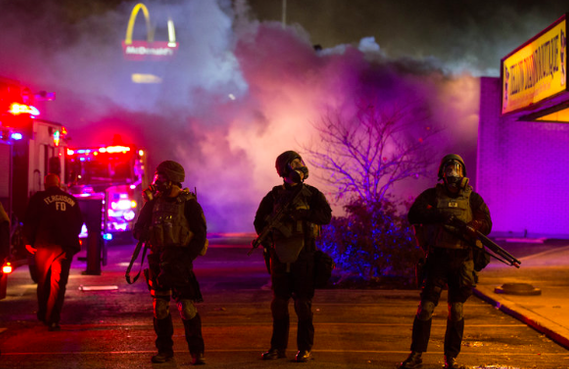 Last night, civil unrest boiled over after the Grand Jury -- made up of 12 members (3 black and 9 white) --  in the Michael Brown/Darren Wilson case decided NOT to indict Officer Wilson. We learned the news around 9pmET Monday evening after prosecuting attorney, Robert McCulloch, specifically cited that the recorded eye witness accounts were not in congruence with the autopsy report and physical evidence.  Outrage in Ferguson was swift, even as statements from the family of Michael Brown and Attorney General Eric Holder called for peace.  Majority of the protestorsexpressed peaceful outrage.
Michael Brown's mother, Leslie McSpadden, was in the crowd in Ferguson as the Prosecutor made the announcement that Darren Wilson would not be prosecuted. And her heartbreaking, anger-filled reaction was caught on camera:
THE FAMILY OF MICHAEL BROWN:
"We are profoundly disappointed that the killer of our child will not face the consequence of his actions.

While we understand that many others share our pain, we ask that you channel your frustration in ways that will make a positive change. We need to work together to fix the system that allowed this to happen.

Join with us in our campaign to ensure that every police officer working the streets in this country wears a body camera.

We respectfully ask that you please keep your protests peaceful. Answering violence with violence is not the appropriate reaction.

Let's not just make noise, let's make a difference."
ATTORNEY GENERAL ERIC HOLDER
"While the grand jury proceeding in St. Louis County has concluded, the Justice Department's investigation into the shooting of Michael Brown remains ongoing," he said. "Though we have shared information with local prosecutors during the course of our investigation, the federal inquiry has been independent of the local one from the start, and remains so now. Even at this mature stage of the investigation, we have avoided prejudging any of the evidence. And although federal civil rights law imposes a high legal bar in these types of cases, we have resisted forming premature conclusions."

"Michael Brown's death was a tragedy. This incident has sparked a national conversation about the need to ensure confidence between law enforcement and the communities they protect and serve. While constructive efforts are underway in Ferguson and communities nationwide, far more must be done to create enduring trust. The Department will continue to work with law enforcement, civil rights, faith and community leaders across the country to foster effective relationships between law enforcement and the communities they serve and to improve fairness in the criminal justice system overall. In addition, the Department continues to investigate allegations of unconstitutional policing patterns or practices by the Ferguson Police Department.

"Though there will be disagreement with the grand jury's decision not to indict, this feeling should not lead to violence. Those who decide to participate in demonstrations should remember the wishes of Michael Brown's parents, who have asked that remembrances of their son be conducted peacefully. It does not honor his memory to engage in violence or looting. In the coming days, it will likewise be important for local law enforcement authorities to respect the rights of demonstrators, and deescalate tensions by avoiding excessive displays—and uses—of force."
It's worthy to note that Atty. General Holder said, "the Justice Department's investigation into the shooting of Michael Brown remains ongoing."  We can only hope the family of Michael Brown will eventually gain some sense of justice as this process continues...

Photos via Getty Images/The New York Times