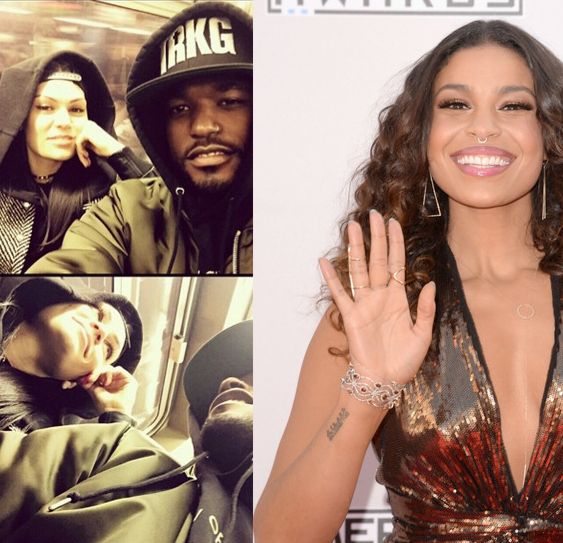 In today's music roundup, Jessie J shoots down rumors of a "Boy Is Mine" remake, Jordin Sparks announces a new "Bye Felicia" mixtape and Faith Evans releases her INCOMPARABLE album and "Fragile" video.
Jessie J (shown above with boyfriend Luke James) is shooting down reports of a "Boy Is Mine" remake.  A few days ago, Rodney Jerkins announced that he'd be remaking HIS greatest hits alongside some of today's musicians.  One of the first rumored tracks was a remake of the Brandy/Monica classic "Boy Is Mine" with Ariana Grande and Jessie J.  NOT SO!
Jessie told UK newspaper The Mirror (at the American Music Awards), "No, it's not true. Neither of us have agreed,, Sadly people are believing it. I spoke to Brandy and I was like, 'No, it's not happening'. Monica and Brandy are the best.'"
We totally agree...no re-do needed.
In other music news...
Fresh from her hosting stint on the AMAs red carpet for Yahoo!, Jordin Sparks announced her upcoming mixtape, titled #ByeFelicia (dropping tomorrow).  She posted the accouncement on Instagram with the caption "Ya'll ready!?? #ByeFelicia mixtape comin Tuesday hosted by the @LaLeakers. cc: @fuzzfantab @justin_credible @djsourmilk!! Can't wait for you to hear my new music!" 
We're sure some of the songs will address her highly publicized breakup with Jason Derulo, but, is she saying "Bye Felicia" to their friendship?
Watch the announcement:
In other music news...
In addition to releasing her INCOMPARABLE album today, Faith Evans teamed with actor Pooch Hall and director Derek Blanks for a "Scandal" themed video for "Fragile."  In the clip, Faith stars as The First Lady while Pooch plays her cheating husband.  And and we all know, Faith knows a thing (or two) about cheating husbands.   
Incomparable is Faith's 8th studio album and featuring Missy Elliott, Problem, Keke Wyatt, Karen Clark-Sheard, and BSlade.
Photos via Jessie J's Instagram/Getty