Dawn Richard has a new shoe collection, while Nas' daughter Destiny is dabbling in cosmetics. Find out about the two ventures inside….
Danity Kane may have been disbanded, but that hasn't stopped former band member Dawn Richard from making boss moves.
Along with her new solo album Blackheart dropping January 2015, Dawn has ventured into creating her very own shoe collection. The former Danity Kane member teamed up with Lust For Life footwear to create edgy and unique style pumps, boots, stilettos and more.
Today, the Blackheart singer hopped on Instagram to floss her new black and gold open-toe D Swag heels. She posted the pic above with info on how to pre-order with the caption, "Can't say how excited I am to wear my own shoe line. Wearing the #DSwag today. Would love to see how you wear your D's.. Preorder them now at @bdonnas @flyjane @lolashoetiquedolls @stilettoskop @shopakira @heelsdotcom" Nice.
 
In music news… Following her debut album GoldenHeart, her new LP is the second offering from her three-part trilogy she dubs "The Black Era". Dawn dished on her upcoming independent arrival saying, "This project isn't just about the musical experience but also the visual as well. "This album is the most experimental album of my career as well as my biggest risk taker."
 
Coming soon to make-up counters....
You can't be the daughter of a Hip Hop entrepreneur and not learn a thing or two. Nas' teenage daughter Destiny Jones (whom he shares with Carmen Bryan) is launching her very own organic lip-gloss line, playing off her pops classic Illmatic album.
Destiny announced the coming arrival of her "LIPmatic" line on Instagram. And it appears her new line will drop on (or around) Black Friday. She said, "The samples are in! @lipmatic #comingsoon #blackfriday #LipMatic" This past week, Destiny has been hard at work on photoshoot sets as she gears up for her lippie's release. A YBF chick on her grind....loves it.
EXTRAS: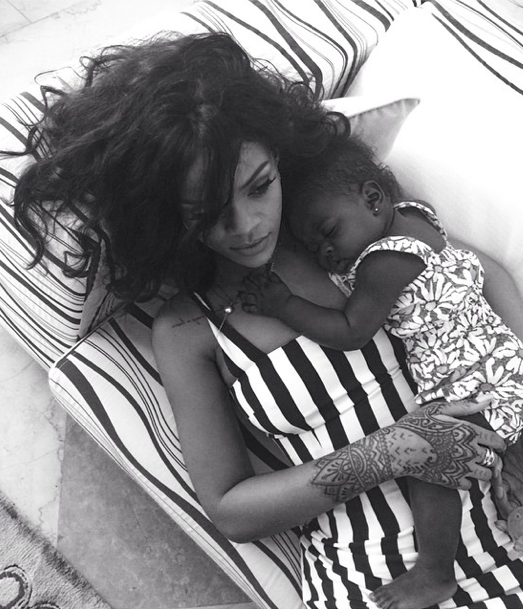 Rihanna is currently back in hometown of Barbados. And she wasted NO time linking up with her 5-month-old cousin/niece Majesty for some quality "Auntie RiRi" time. In a recent interview with EXTRA, Rih dished on showering her little princess niece with MAC cosmestics. Yes...Rih is prepping baby girl for her "diva in training" classes already.
She explained, "I already put on some lip gloss… She likes it. You know what she really likes? Selfies! She loves the camera."
So when does Rih plan to have a baby of her own? "One day, I've got tons of work to do," she said.
And of course....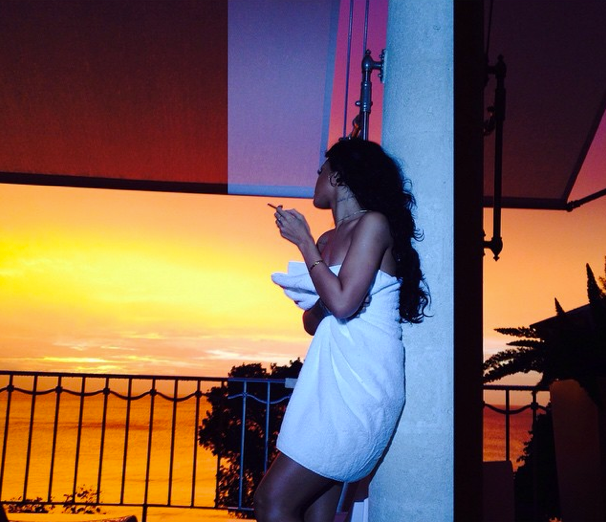 The Pop princess got in a quick smoke session as she watched the sunset...in the nude. Same ol island chick...
Photos: Dawn's IG/Destiny's IG/Rihanna's IG/Melissa's IG