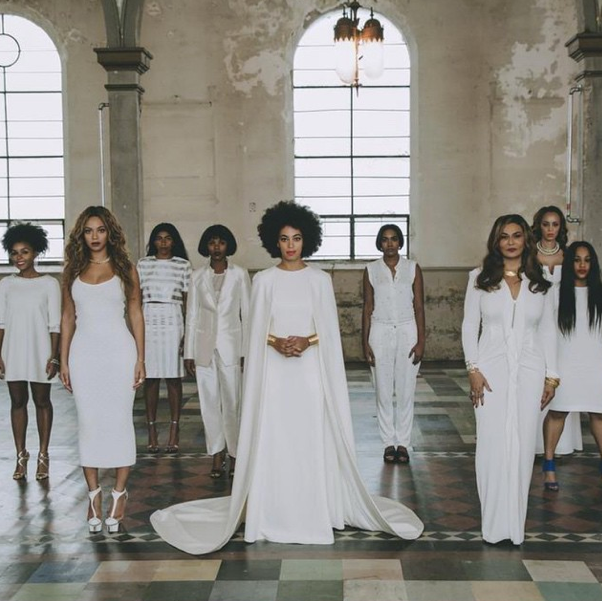 We have additional details surrounding Solange Knowles Ferguson's all-white wedding fabness. And they're coming from Mama Tina's point of view. Get the scoop inside…
Tina Knowles was one proud mama as she watched her youngest daughter Solange Knowles marry the man of her dreams (Alan Ferguson) in her fashion forward New Orleans nuptials last week.
And now, Mama Tina is dishing the deets on her favorite moment and how big sis Beyonce saved the day after Solange broke out in hives (shoutout to Benadryl). She also revealed the "bridesmaid" photo (that broke the Internet) was not a picture of her daughter's bridal party because Solo opted out on having a traditional bridal party. The fierce snapshot was actually a portrait of Solo's closest female family and friends.
During her first post-wedding interview with Entertainment Tonight, Tina lets us in on what actually happened to Solange that caused that unfortunate allergic reaction during her special day. And how Beyonce came to her little sister's rescue. She dished,
"[Solange] went through the wedding and the sit-down dinner and she was just fine, and then they had a second line in the streets of New Orleans and she was dancing so hard, I think she just go overheated," Tina recalls. "And the seafood, I think she had a reaction to it. [Beyonce] took her back to the hotel and gave her Benadryl and cortisone creams. She took a shower and in two hours, she showed up at the reception and did the dance with her son and just had a ball."
Aww…how sweet.
Solo's epic nuptials actually spanned over three-days down in N.O. And Mama Tina reveals her dearest moment. She said,
"There wasn't a dry eye on the place. They were just so heartfelt and I just think the wedding epitomized Solange as a person, and her and Alan's artistic flare."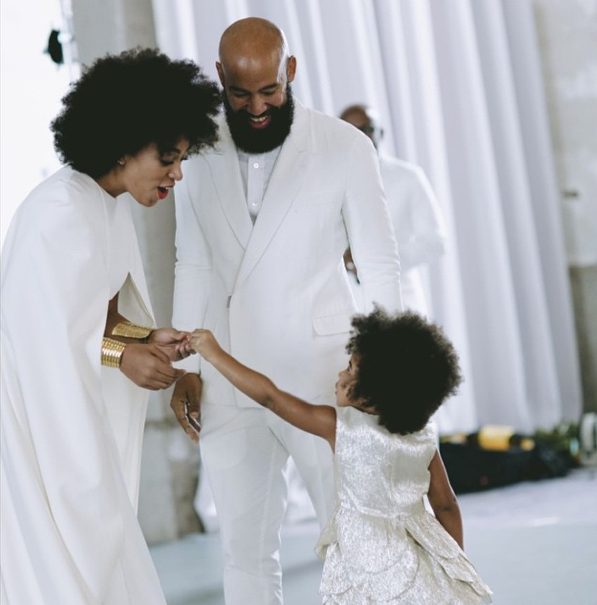 Solo's 10-year-old son Juelz attended the after party to perform his super cute mommy-son dance to "No Flex Zone". But he wasn't there long. Once he finished his gig, he was sent to sleep because the after party turned into a "grown folks party", which explains why little Blue Ivy was not in attendance. Mama Tina explained,
"She [Blue Ivy] didn't get to come to the after party," Tina says. "[Julez] only got to come and do the dance and then he had to leave. Had to go to bed. It was a grown folks party."
Ha!
Tina also opened up a bit about a new book she's writing, which may chronicle some of the hardships in her life. She vaguely said,
"Everything in my life happened for a reason. Even when I thought they were the worst things in the world, they turned out to be the best things in the world. If you're going through something, just know that you're gonna come out on the other side. You're going through it -- you're not stuck there forever. That's what the book is about."
We are twiddling our thumbs to see if she addresses her ex-husband Mathew Knowles' baby mama drama....
Photos: Beyonce's IG