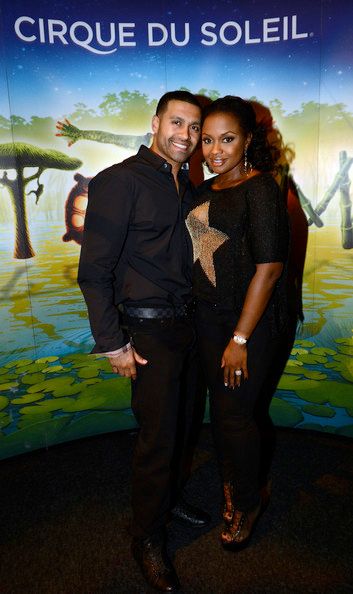 Apollo Nida wants you to know he's hopeful about reconciling with his estranged wife Phaedra Parks, even though he's currently behind bars.  Phaedra, on the other hand, wants no parts of it. Find out what Apollo said in his first prison interview…
After almost two months behind bars, reality star Apollo Nida is speaking out on his strained relationship with his "RHOA" wife Phaedra Parks. And he's owning up to the mistakes he made while desperately trying to "keep up with her lifestyle".
Apollo is currently serving an eight-year bid after pleading guilty to identity theft and fraud, leaving behind his wife and two young sons Ayden (4) and Dylan (18 months). And in his first interview from the inside, he says he's hoping to work things out with his wife soon.
During an interview with In Touch Weekly, the Southern Belle's husband revealed he and Phaedra have now gotten to a point where they are cordial (speaking frequently via phone). He's optimistic they will be able to work through this and eventually reunite as a family. He dished, "Yes, we've had problems — especially over the last year — but we've gotten on terms now where I can call her and it's cordial. I'm hopeful that we can stick things out."
Maybe he got a glimpse of hope after he learned Phaedra was considering bringing her sons to visit their father. He claims, "There's a plan to get them up here."
Or…maybe he's so confident the two will reconcile since he claims Phaedra has NOT filed for divorce yet! You'll recall, she confirmed she would would be filing for a divorce during an appearance on the "Ellen DeGeneres Show" last month.
 
But if you ask Phaedra, there doesn't seem to be any signs of reuniting with her husband. According to her rep Steve Honig,"The divorce is proceeding as planned. While Phaedra and the boys do speak with Apollo regularly, there have been absolutely no discussions about reconciling."
Bloop!
While his wife proceeds with their divorce, Apollo says he's sorry for letting people down and once he's released, he plans to make things right. He said,"I know for a fact that when I get home, I will pick up the pieces."
Guess we will see in due time…
 
Photo: Getty