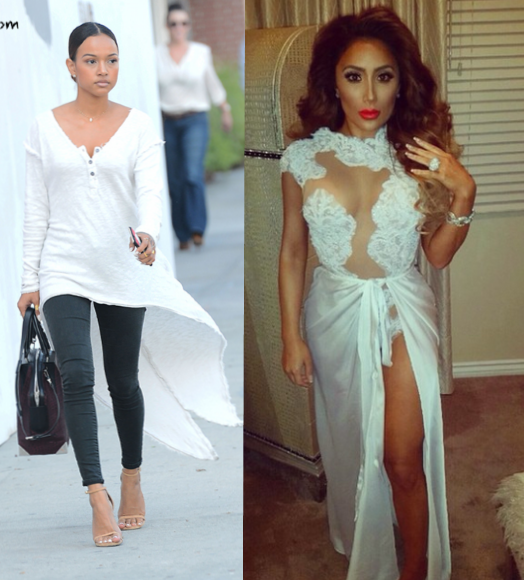 In today's baller report, recent upgrades in the personal lives of Karrueche Tran and LAHH Hollywood star Nikki Mudarris show that it's beneficial to have a wealthy boyfriend.  Very beneficial.  Get the deets on their acquisitions inside....
Karrueche Tran recently added a pic of herself sitting in the driver's seat of a Ferrari on Instagram, but the car isn't her most fabulous new item over the past few months (the car was likely just for a photoshoot anyway).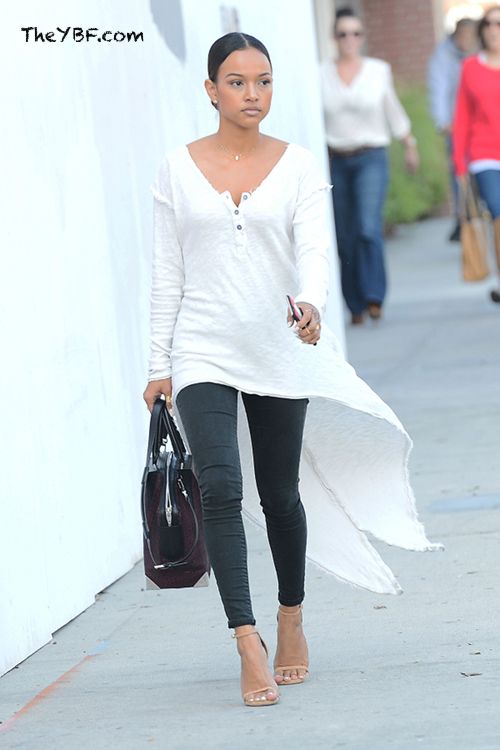 Spies in the LA area have noted that Karrueche Tran (shown above on a stroll through Beverly Hills yesterday) has upgraded to a phat crib in a super trendy area, the heart of West Hollywood.  TMZ notes that KT is paying $4,600K-a-month to lease the house, and Chris Brown's various Lambos are often spotted in the driveway (see pic here).
While we're not suggesting that Chris is paying for the home (KT may be able to afford the home all on her own thanks to her lucrative club appearances), but having a celebrity man on her arm SURELY helps her rake in said lucrative appearances and gigs. Right?
In other purchases...
LAHH Hollywood star Nikki Mudarris (atop) added a photo to Instagram from the driver's seat of her new $250,000 2014 Bentley Continental coupe.  Not sure if that mug is rented. We also couldn't name a Mally Mal song off the top of our heads even if money was at stake.
TMZ reports that the car was a gift from her boyfriend, Mally Mal, who also appears on the show. Hmmm....no wonder she and Masika fought over him.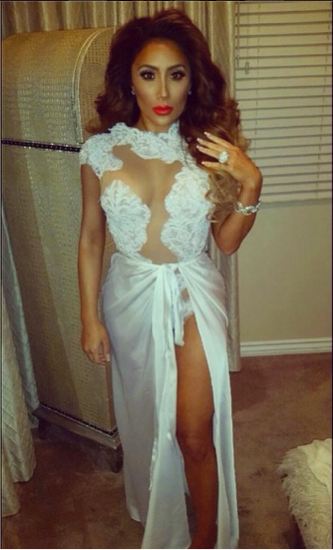 Oddly, Nikki's Instagram is not chalked full of Mally Mal pics, but over on his IG, he posted a pic of Nikki (who apparently manages a bunch of strip cubs for a living) with the caption, "The Badest EVER on #LHHH !!! Hand delivered ➡️#mallymall⬅️...#dontpanic We just Gettin Started ..." 
SMH...sounds like true love.  Reality tv style....
 
Photos via Karrueche Tran Instagram/Nikki Mudarris Instagram/Splash