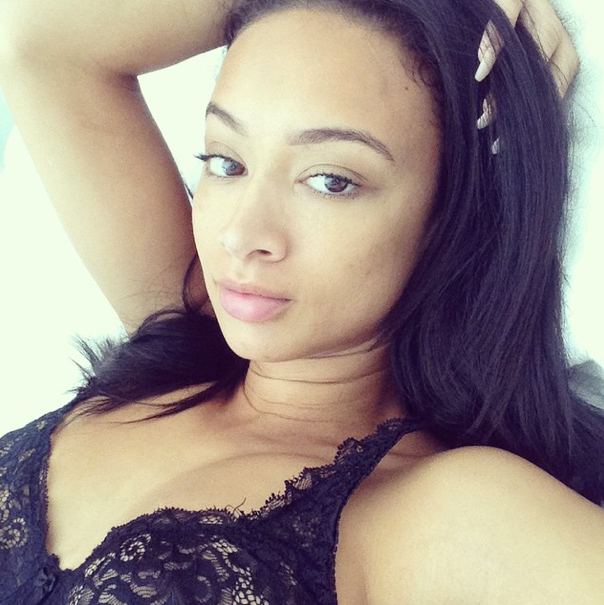 Well, it looks like another reality star might have a sextape on her hands. Pictures from an alleged sexual encounter between Draya and an alleged ex-boyfriend has surfaced. Decide if it's really her inside….
After reuniting with her Dallas Cowboys beau Orlando Scandrick, "Basketball Wives L.A" star Draya has been seemingly happy in her love life. And when she's not filming for the hit VH1 series, the mother-of-one (son named Kniko) has been steadily working on her swimsuit line, Mint Swim. Everything was seemingly going well in her life…that is until now.
Some very risqué photos of a woman and man intimately involved have hit the 'net. And according to Hollywood Street King, the woman in the film is allegedly Draya and the man is her supposed ex-boyfriend.
We first heard about this alleged sextape back in 2011. Draya took to Twitter to ask her fans to pray for her and her family because someone was threatening to release a sextape involving her. She said only two people had possession of the flick and she was one of them, so if the tape leaked she knew he/she did it.  We wouldn't be surprised if it was actually the former.
Fast forward to a few weeks ago, an alleged ex of Draya's, named David Miranda, filed a lawsuit against the reality star because he fears SHE is the reason the sextape could get leaked. According to TMZ, David is suing Draya in small claims court (in NYC) for loss of "private documents."
And here we are...the alleged leak has occured.
David claims the documents in question are the actual sextape(s). The two were allegedly involved with each other from Jan. 2011 to Sept. 2013, so there is a possibility there are more. We're not sure if the man in the photos is really David, since HSK reports it's a rapper named Vain Starrz. So maybe there are multiple tapes with multiple ex-boyfriends? *shrugs*
We're not posting the actual foolishness here, but check out the flicks and tell us if you think it is in fact Draya…here.
 
Guess her "hoe"ness can't be erased (if her) like she thought....
Photos: Draya's IG