That's a wrap for "106 & Park".  At least when it comes to it having a daily home on BET.  Deets inside on the network ending the show's 14-year-run inside...
We're not sure if it was that wisecrack about Blue Ivy Carter's hair that a writer fed to guest co-host Karrueche Tran recently, or if the show has simply run its course (or a little bit of both), but the end has come for "106 & Park".
The masses have been complaining for years now about the downturn of the show--from original hosts AJ & Free's exits to the original audience simply outgrowing the show.  And now, the network has announced the show is a wrap...on cable TV.  After the last show on December 19th, the show will move to BET's digital platform in some way.
America's #1 music variety show on cable television "106 & PARK" will host its final daily on-air show December 19, 2014 concluding its impressive 14 year run. The "106 & PARK" brand remains strong and will continue to produce various specials throughout the year including its annual New Year's Eve show, "106 & PARTY, " along with live event experiences at the "BET Awards" and BET Experience. In 2015, we look forward to continuing its reign as the hottest hangout on one of the coolest digital platforms, BET.com.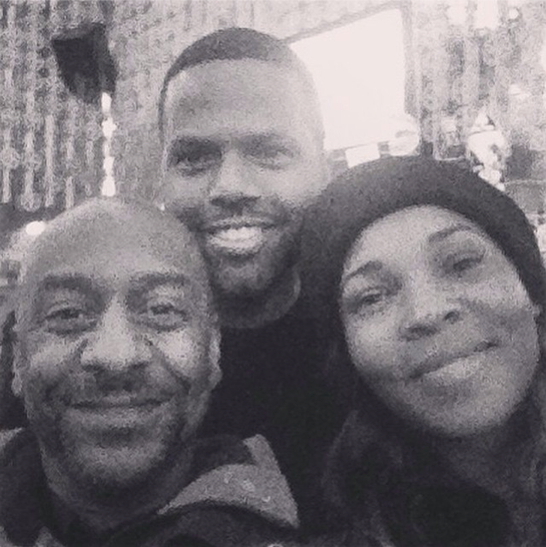 BET President of Music Programming, Stephen Hill, gushed about the last 14 years and posed the above pic saying,"About 5 minutes ago. @ajcalloway @missfreemarie #106&Park it's been a great run."
And he gave this statement:
AJ accepting Janet Jackson's challenge to…dance. Bow Wow laying that kiss on Tyra Banks (or was it the other way around?). Free crawling around the set LIKE Catwoman WITH Catwoman Halle Berry. Julissa's taking over Halloween as "Wonder Woman". Keshia brilliantly bonding with First Lady Michelle Obama. Paigion flying around the world with Rihanna on a 777. Rocsi salsa dancing with Victor Cruz and putting him to shame. Shorty and Ms. Mykie's killer rap "The History of Justin Timberlake", visably thrilling JT himself. Terrence on the beat boxing while Jamie Foxx rhymed. Tigger making Tom Cruise do the of-the-moment "motorcycle dance".

We all have our favorite moments from the show that has put youth culture on television daily since the first year of this century. We have pride in being involved with the show that has welcomed almost every movie star, music superstar, and fresh faced talent you can name (you can even throw in a First Lady). We've all laughed with and been entertained by the young men and women hosts that have charmed us at 6pm (and more recently 5pm) each weekday.

All of us have been touched by 106 & Park.

Now it's time for 106 & Park, as a daily TV entity, to take a bow and exit.

It's been a great 14 year run as America's top music/variety show on cable. And now that very valuable brand is going to take its talents to the digital realm. The interactive brand you helped build, 106 & Park, is alive and well…and it's moving to the space in which our audience NOW interacts with music the most; online. It'll be very exciting to connect with the millions of people that are already engaged with 106 & Park and other BET digital and social media entities and bring content that will further evolve the 106 & Park brand…and enhance the overall BET Networks brand. As we transition to the digital space, we look to continue 106 & Park's role as both a leader of and a mirror to youth culture. We'll have more information to share about how that is to roll out very soon.

And 106 & Park will still have specials on BET. What's a New Year's Eve without 106 & Party? 106 & Park Presents: 106 & Party will be on-air to take our viewers into the beginning of the second half of this decade in a big way. And when it's time for the BET Awards to come around, you can be sure that 106 & Park Presents: Live, Red and Ready will be ushering you into the show and that 106 & Park will be an integral part of the BET Experience.

I'm not trying to minimize it; this is a very big change. We thank all the people who have worked on the show over the years; the talented hosts, the hard-working staff, production crews, and all the incredible guests we've had. Most of all, we'd like to humbly thank the "livest audience", both in studio and at home, who fueled this landmark TV show from the very beginning. Meet you in the digital domain.

106 & Park will have its final daily on-air show on BET on December 19th.

Onward and upward.
Well...
Photos: BET/Stephen Hill's IG