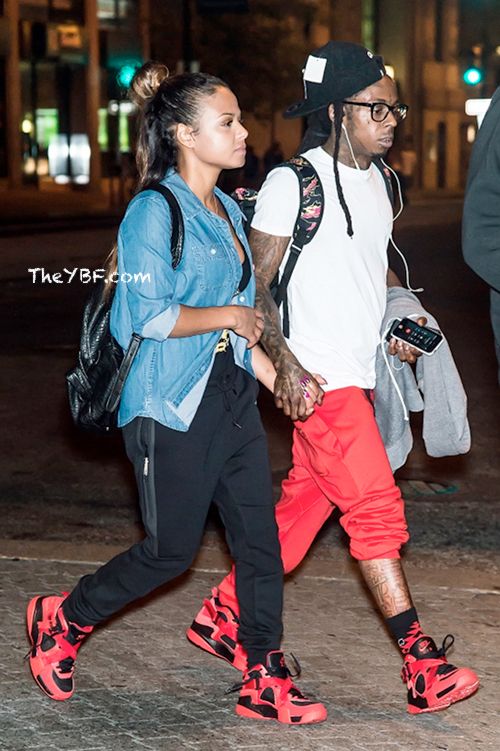 By now, it's safe to say Christina Milian and Lil Wayne are dating…at the least. And to further confirm the rumors, Christina popped back at a fan on Instagram who posted a collage of all of Lil Wayne's baby mothers…with one spot including not-yet-baby's-mother Christina. What she posted in the comments surely raised a few eyebrows. Find out what she said inside…..
Christina Milian and Lil Wayne want us to think they're just "friends working on music" (Yes..Christina is supposedly dropping a new mixtape soon). But, we know better. Especially when "friends" are dressing alike as they walk the streets hand-in-hand and celebrating with one another for birthdays and such.
To further prove her "situationship" with the YMCMB honocho, the Young Money singer took to Instagram to clap back at a fan about her romance with Weezy. A collage of Wayne's children's mothers: Toya Wright, Sara Vivan, Nivea and Lauren London was posted. And it included his "current" chick C Milli. They posted and captioned: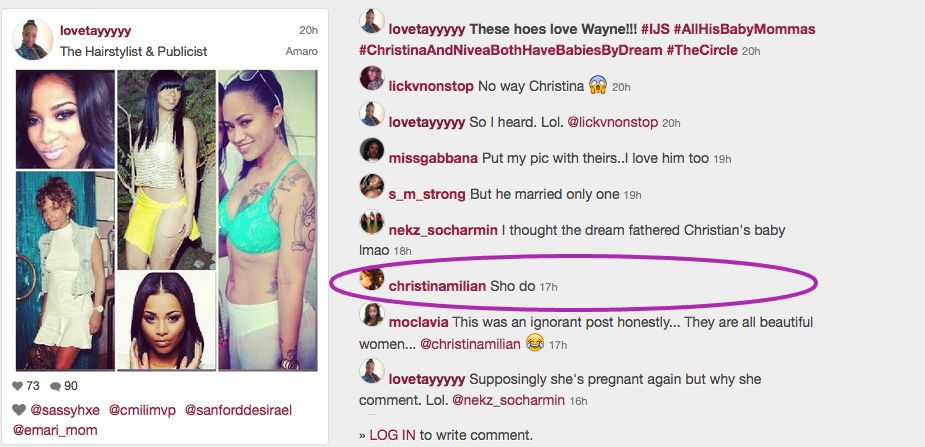 These hoes love Wayne!!! #IJS #AllHisBabyMommas #ChristinaAndNiveaBo thHaveBabiesByDream #TheCircle
Shortly after the post went up, another fan tagged C Milli's IG handle, so Christina decided to respond. She crept up into the post's comments section and responded, "Sho do."  So it seems like she was talking about herself, and/or the baby's mamas.  Either way, no shame in talking ish we see.
As badly as Christina may want to be graciously accepted into the "baby mamas" club, two of Waynes exes are NOT here for it. Nivea has expressed her frustrations with C Milli now dating her ex-fiancé/son's father, especially since Christina also has a child with Nivea's ex-husband The Dream.  Wayne's ex-wife Toya Wright, who she shares daughter Reginae with, has also chimed in on their "relationship", calling it a "hot mess".
After catching heat from other IG users, the poster then tried to backtrack her comment, in which she said,
Probably only because @christinamilian commented but now my neck is being chopped over it. Simply because I used the word hoes instead of females. Lmao. I really didn't mean they were "hoes" but okay. Wayne refers to all his females as hoes but that dude is loved. Feeling like Wendy Williams right now. Lol. People claiming I got 5 seconds of fame. Lmfao. It's IG. This ain't shit.
Don't mess with "Tina Turn Up".
Aside from popping back at fans on social media, during her down time, Christina is busy promoting Weezy's newest musical offering:
Stan for your man then chile....
Photos: Splash/@lovetayyyyy